Turkey's Erdogan sacks 3,900 officials in another mass purge
This is the second crackdown since Erdogan won a landmark referendum.
Turkey has sacked more than 3,900 people from the civil service and military in the latest mass purge linked to a botched coup attempt. More than 1,000 of the affected officials are justice ministry staff.
This is the second purge in Turkey after President Recep Tayyip Erdogan won a landmark referendum which gives him vast presidential powers. Earlier on Wednesday, 26 April, the government suspended as many as 9,000 workers from various departments. Since the coup attempt in July 2016, more than 120,000 people have been suspended and over 40,000 arrested.
On Saturday, 29 April, the Turkish government announced the dismissals affecting academics, prison guards and clerks. While more than 1,000 army staff have been suspended, dozens of air force pilots have also been removed. The employees of the religious affairs directorate are among those sacked.
In an official statement, authorities alleged that all the removed workers have had links with "terrorist organisations and structures presenting a threat to national security", in a thinly veiled reference to US-based cleric Fethullah Gulen. The self-exiled cleric is accused of masterminding the coup, but he sternly denies the accusations.
In addition to the mass purge, the government has issued a decree banning TV dating shows as promised earlier. "In radio and television broadcasting services, shows where people are introduced and/or brought together to find friends ... cannot be made," read an official gazette in which such decrees are usually announced.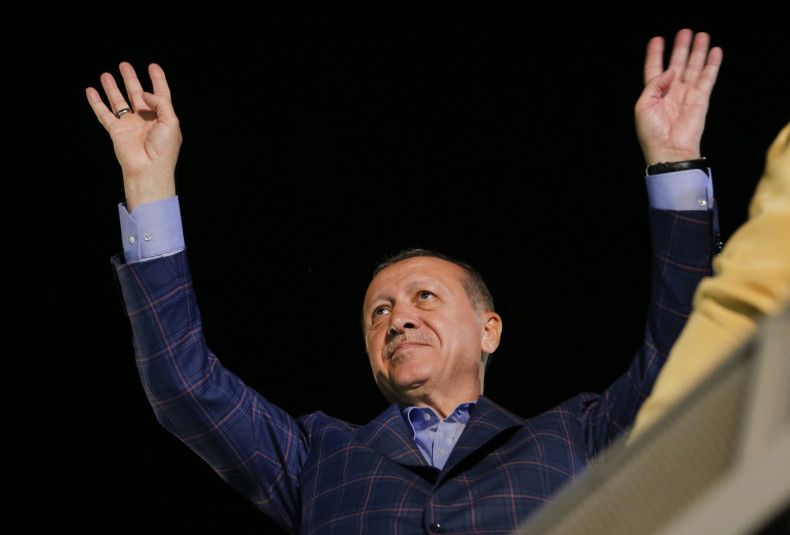 The latest crackdown comes hours after the country's telecommunications watchdog imposed a ban on Wikipedia citing national security threats.
Erdogan's style of functioning has come under a lot of criticism since anti-government forces tried to overthrow him in July. Though Turks initially backed his tough measures, Erdogan began to face strong opposition from within the country and elsewhere as he constantly amassed powers with scant regard for any kind of disapproval.