The last week has been a fascinating experience of political highs and lows. I have had to give a statement to police officers investigating threats made against me – including an apparent death threat – for voting in support of extending RAF operations against Daesh (Islamic State/Isis).
When I won in May, I never expected that a vote in parliament would result in a volley of abuse, attempted intimidation and threats.
I won in May with one of the largest swings in the country and managed to increase Labour's local vote share by 50% since 2010. My campaign turned a Liberal Democrat majority of 8,500 into a Labour majority of over 4,000 and I managed to succeed where eight previous Labour candidates hadn't: I beat Simon Hughes.
Hughes held Bermondsey since the infamous 1983 by-election. People remember that campaign's openly homophobic and vicious treatment of the Labour candidate, Peter Tatchell. What people forget is the extent of Labour division then. It was just before the 1983 general election, Michael Foot was at Labour's helm while Tony Benn was busy drafting a Labour manifesto later described as the "longest suicide note in history".
Labour was at a nadir and Tatchell faced not just Hughes, but two "independent" Labour candidates – including the leader of the council, John O'Grady. Today's Labour Party needs to hear the echo of 1983 as we risk repeating division, leftward drift and electoral loss. Winning Oldham this week was a success, but should never have been in question: the last time the Tories won in the area was 1968.
This week has also shown how some of the nastier edges of British politics operate: fear, intimidation, threats and hostility. I've experienced some of the viler edge – but many female MPs put up with unacceptable threats of violence and even rape on a more regular basis. Stella Creasy has had an incredible amount of abuse recently, but even MPs who opposed air strikes like Jess Phillips have experienced threats and disgusting insults that should form no part of democratic debate.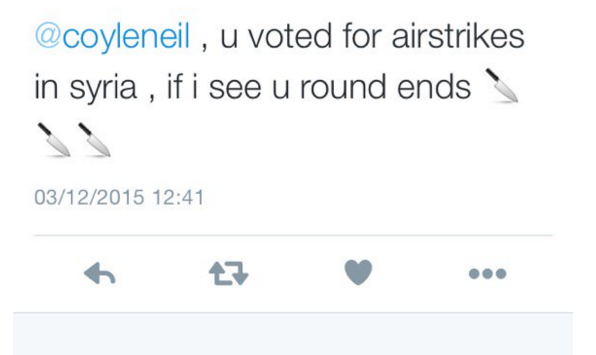 One Tory MP, Lucy Allan, reportedly faked a threat in order to "highlight the issue". I think she's made a mistake and deserves some of the derision for a poor decision. But abuse from often anonymous accounts needs to be tackled by Twitter.
The genuine threats came to me because I backed air strikes. I support the extension of anti-Daesh operations into what used to be Syrian controlled territory. I backed an intervention as my constituents are already Daesh targets. The UK air strikes will, I hope, help prevent Daesh territory being used to train, equip, radicalise and fund activities targeting London further.
I believe it was the right decision and, despite the nastier edge of some people who've been in touch since, I've also seen a brighter side locally. I was campaigning in Rotherhithe on Sunday and was even welcomed into people's homes who didn't vote Labour in May. I had one father tell me he'd backed Cameron, but thank me for "doing my bit" to try and protect his children. I also received a largely positive response from my own Party members – even where they disagreed with me on the vote. Some locals went further: drinks were lined up for me at one club on Sunday!
But the police are taking some threats very seriously. They provided additional security at my surgery on Friday. I'd rather they were out investigating other crimes given their stretched resources; Southwark has lost 200 police officers and PCSOs since 2010 with more to follow sadly, despite the smoke and mirrors of Osborne's latest spending review.
It seems some of those who have been threatening from anonymous accounts might soon have a knock on their door. I'm prepared to step up and ensure action is taken to try and send a message to other Twitter users in particular: anonymity can be removed and charges pressed if you misuse or abuse the right to freedom of speech.
---
Neil Coyle is Labour MP for Bermondsey and Old Southwark
---