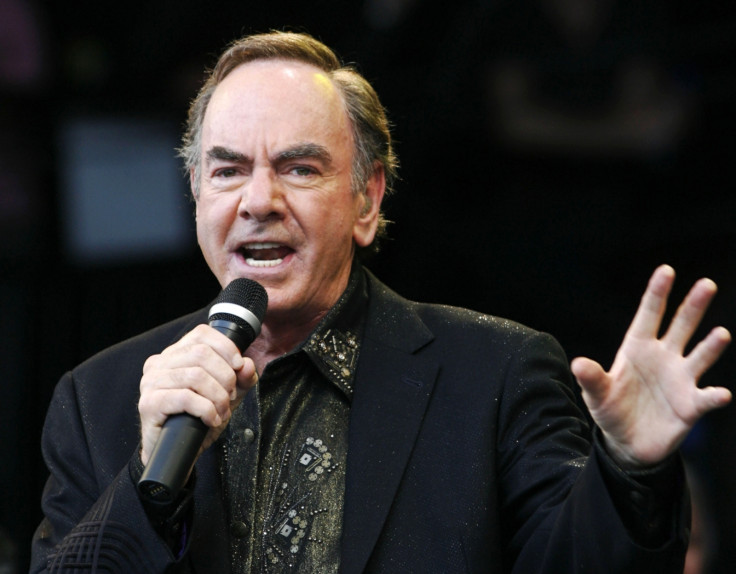 Neil Diamond has revealed that he has been diagnosed with Parkinson's Disease, a disorder of the central nervous system with main symptoms being tremors at rest, muscle rigidity and slowness.
The legendary singer, who turns 77 on Wednesday (24 January), added that he is retiring from touring with "great reluctance" and "disappointment" but, will continue to write and record songs.
"The onset of the disease has made it difficult to travel and perform on a large scale basis but will allow Mr. Diamond to continue his writing, recording and development of new projects," a statement issued by the singer on his official website reads.
"I plan to remain active in writing, recording and other projects for a long time to come," Diamond said in the statement.
Diamond was set to perform on the third leg of his 50th-anniversary tour in March but, cancelled his gigs following the diagnosis, apologising to his fans who already bought tickets to the Australia and New Zealand leg of his tour.
"My sincerest apologies to everyone who purchased tickets and were planning to come to the upcoming shows," he said, adding that the tickets already paid for by fans will be refunded and "you do not need to take any action".
"Please allow up to 10 working days for the refund to appear in your account," he said.
Diamond also said it was an honour for him to perform in front of his fans for the past 50 years, with his hit songs like Sweet Caroline, Solitary Man, Girl You'll Be a Woman Soon among others.
"My thanks goes out to my loyal and devoted audiences around the world. You will always have my appreciation for your support and encouragement. This ride has been 'so good, so good, so good' thanks to you," he said.