More than 100 countries worldwide are set to join South Africa in its commemoration of Nelson Mandela International Day.
This year will mark the first time the day has been celebrated without Madiba, and the fifth year since the UN declared July 18 – the birthday of the anti-apartheid revolutionary – the international day aimed at "bringing people together to fight poverty and promote peace and reconciliation."
Yet reconciliation has been far from the minds of the Mandela family, as the last 12 months of Mandela's life marked a turbulent year of public rows, even as their patriarch lay on his deathbed.
In the midst of Mandela's failing health, a civil war broke out among South Africa's most famous family. Bickering over the use of the family name - to sell everything from wine to art – threatened to overshadow reflections on Mandela himself during the last months of the statesman's life.
A year ago, just weeks after Mandela was admitted to hospital with lung infection, a bitter feud engulfed the Mandela family over the unauthorised removal of the remains of three of his children from the family graveyard by his grandson Mandla Mandela back in 2011.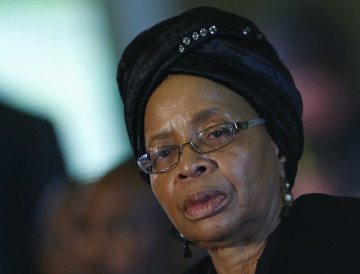 The graves in dispute included Makgatho Mandela, the father of Mandla Mandela who died in 2005, Makaziwe Mandela, Mandela's first daughter who died as an infant in 1948, and Madiba Thembekile Mandela, Mandela's second son who died in a car accident in 1969.
At the time, lawyers for 16 members of Mandela's family, including his wife, Graca Machel, and his eldest daughter, Makaziwe, sought to enforce the immediate return of the bodies for reburial in Mandela's home village of Qunu – where he stated he wished to be interred with his late family.
The feud continued until the final passing of Mandela on 5 December 2013. Just weeks after his death, family members argued over access to his rural homestead. It was reported that some of them had "pushed out" his eldest grandson Mandla from the Qunu family home in the Eastern Cape – where Mandela was laid to rest.
Makaziwe is said to have overseen the funeral preparations, while Mandla was the public face of the family - remaining with the coffin in a solemn vigil throughout three days of lying in state at the Union Buildings in Pretoria. The two had long been arguing about control of Mandela's legacy.
In February, the feud continued when it was revealed that Mandela willed money to family and staff but left nothing for ex-wife Winnie Madikizela-Mandela. His wife of 38 years during the struggle against racial apartheid, they divorced in 1996 but became close again towards the end of his life. Along with his third wife, Graca Machel, she was at his bedside when he died.
It also emerged that the former president's daughters, each given $300,000 (£184,000) by him during his lifetime, received no further money in the will. His wiidow Machel later waived her right to half of his estate.
The dispute escalated in June, when Mandela's former personal assistant Zelda la Grange released a memoir – damning "disrespect" shown towards Machel from his family. Known as Mandela's "rock", La Grange spent more time than anyone in his company after he became South Africa's first black president in 1994.
Six months after her husband's death, Machel's foundation, the Graca Machel Trust, confirmed that she had finally returned to public life. She said that although her mourning period was over, she would not stop grieving – but would be returning to her active role as a global advocate for women's and children's rights.