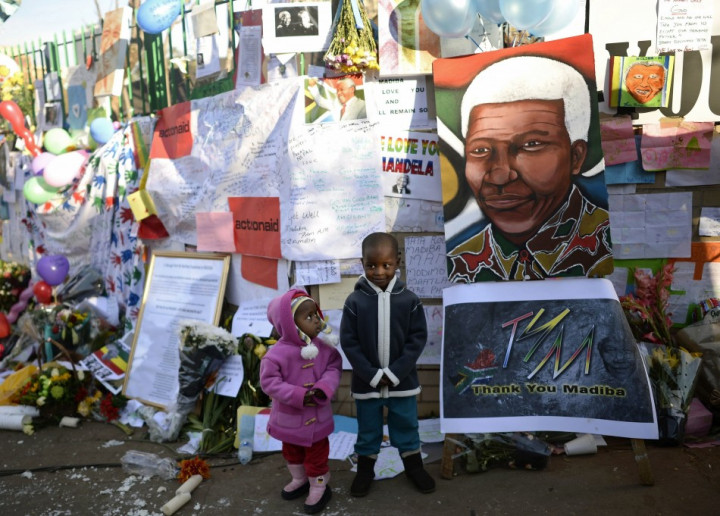 South African icon Nelson Mandela is reportedly on life support after a marked deterioration in his condition. President Jacob Zuma has cancelled a foreign engagement and Barack Obama's visit to South Africa is uncertain.
An elder in the former president's clan told reporters that Mandela, 94, was unable to breathe unaided in his hospital bed in Pretoria.
Napilisi Mandela, who visited the anti-apartheid hero, told AFP: "[He is] using machines to breathe."
Local sources claimed there was little chance of Mandela recovering and the mood in the country was one of resignation.
Although his condition was dire, he was responding to touch and was "still there", his eldest daughter Makaziwe said.
"I won't lie - it doesn't look good. But if we speak to him, he responds and tries to open his eyes. He might be waning but he's still there," she told SABC radio.
Wellwisher John Ndlovu, 25, said: "We are all going to feel bad when he passes but at the same time we will be celebrating his life. He has done so many great things for this country."
Zuma, who has also visited Mandela, cancelled plans to attend a regional summit in Maputo, the capital of neighbouring Mozambique.
His spokesperson, Nac Maharaj, said Mandela's condition had deteriorated in the past 48 hours but declined to comment on the life support reports.
Maharaj told reporters it was too early to say whether Obama's imminent visit would be cancelled because of Mandela's fading health.
Obama is on a tour of Africa, which began with a visit to a former slave house in Senegal. He was due to visit Johannesburg and Cape Town.
Mandela entered the Medi Clinic Heart Hospital on 8 June with a recurring lung infection. It was the fourth time he had been admitted to hospital in six months.
Mandela's ambulance broke down on the way from his home in Johannesburg to the hospital. Some reports suggested that the Nobel prize winner was wheeled out on to the side of the road and kept there for a substantial period of time in freezing temperatures - potentially exacerbating his condition - while a replacement ambulance was found.
Zuma denied the rumours. "There were seven doctors in the convoy who were in full control of the situation throughout the period," he said.
"The fully equipped military ICU ambulance had a full complement of specialist medical staff including intensive care specialists and ICU nurses."