Presidents and prime ministers, celebrities and ordinary South Africans set aside the differences in race, social class and status, to join hands in paying homage to the man who dedicated his life to uniting a divided people.
The public memorial for former South African president Nelson Mandela, has been hailed as one of the largest gatherings of global leaders in recent history, with 100 representatives from around the world paying their respects to the global icon.
The four-hour memorial service at Johannesburg's FNB stadium attracted tens of thousands of mourners, who defied driving rains to celebrate the life of the anti-apartheid leader.
In a display of soaring rhetoric US President Barack Obama won over the cheering crowds. "We will never see the likes of Nelson Mandela again," he said. "To the people of South Africa -- people of every race and every walk of life -- the world thanks you for sharing Nelson Mandela with us," he added, calling him a "giant of history."
In stark contrast, the current President of South Africa Jacob Zuma, was met with vociferous jeering from his own people. Continuing with his tribute, despite the evident resentment directed towards him, he said: "There is no one like Madiba. He was one of a kind. Everyone has had a Mandela moment when this world icon has touched their lives. That we are Madiba's compatriots and that we lived in Madiba's time is a reason for great celebration," he added.
United Nations Secretary-General Ban Ki-moon spoke movingly of the outpouring of personal and public loss at Mandela's passing. "South Africa has lost a hero, they have lost a father," he said.
"The world has lost a beloved friend and mentor. Nelson Mandela was more than one of the greatest leaders of our time, he was one of the greatest teachers. And he taught by example."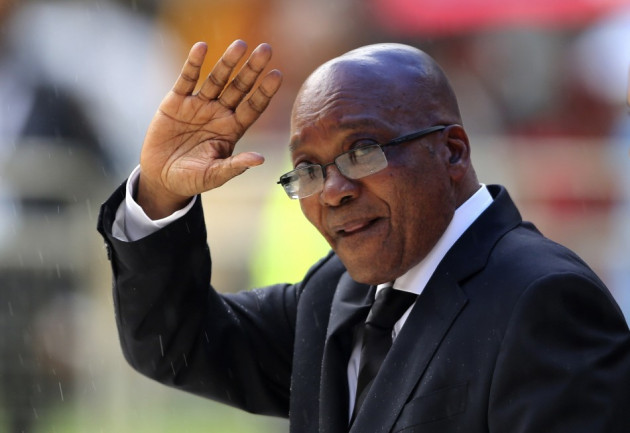 The presidents of Namibia, India, Cuba and the Chinese Vice President Li Yuanchao were also designated speakers. And among the attending guests were friends and allies of the much-loved statesman, including former US president Bill Clinton with former first lady Hilary Clinton and daughter Chelsea.
From India, Sonia Gandhi and President Pranab Mukherjee. And most notably, South Africa's last apartheid leader, F.W. De Clerk, who shared a Nobel Peace Prize with Mandela for his role in ending the apartheid regime.
Representing the UK were Prime ministers past and present, John Major, Tony Blair and David Cameron. Cameron told CNN: "It means a lot because it really is to say goodbye to an extraordinary man and to commemorate someone who did so much not just for South Africa, but also for the world in terms of the inspiration that he gave."
Reflecting Mandela's high profile associations in the world of entertainment were South African actress Charlize Theron, model Naomi Campbell and U2's Bono.
With hostilities put on hold for the momentous day, the occasion saw the spirit of reconciliation which Mandela fostered throughout his life, in full effect, with political foes Zimbabwean President Robert Mugabe and Tony Blair crossing paths, while President Obama extended a historic hand of friendship to Cuban President Raul Castro.
Mandela's widow, Graca Machel, and his former wife Winnie Mandela were also seen embracing, united in their grief for the man they both loved.
Commenting on the diplomatic ceasefire, Ban Ki-Moon, the United Nations Secretary-General, said it was indicative of Mandela's ability to unite sworn foes across political and racial divides.
"He [Mandela] has done it again.... We see leaders representing many points of view, and people from all walks of life. All here, united... He showed the awesome power of forgiveness and of connecting people with each other."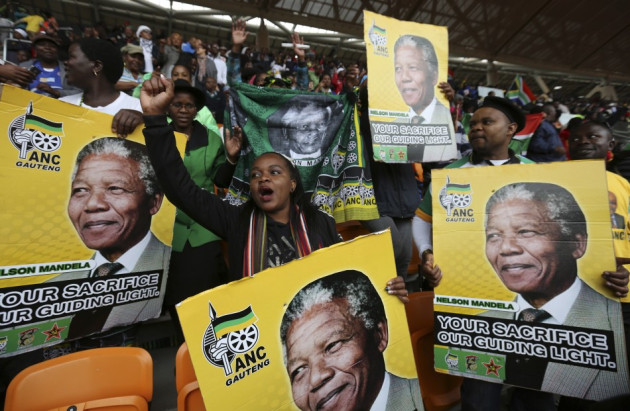 Mandela's family members, including his grandchildren, also paid their personal tributes. Speaking of their very personal loss, his nephew Gen. Thanduxolo Mandela said his family has gone through waves of grief, sorrow and anguish after his death.
But "today, more than any other feeling my family holds is thankfulness for that wonderful life," he said, also giving thanks for the outpouring of respect from around the world. "This universal show of unity is a true reflection of all that Madiba stood for -- peace, justice, unity of all mankind. Let us pledge to keep Madiba's dream alive."
The memorial service took place at the same venue, which had seen Mandela deliver his first speech, after he was released from prison 23 years earlier, when he first expressed his dream of a new South Africa.
His dream fulfilled, today, the people of South Africa bade farewell to their much-loved leader, with the words "Hamba Kahle Tata Madiba" - "Go Well Grandfather Madiba."