Nepal earthquake: Aid agencies forced to turn to India for supplies, as help reaches remote areas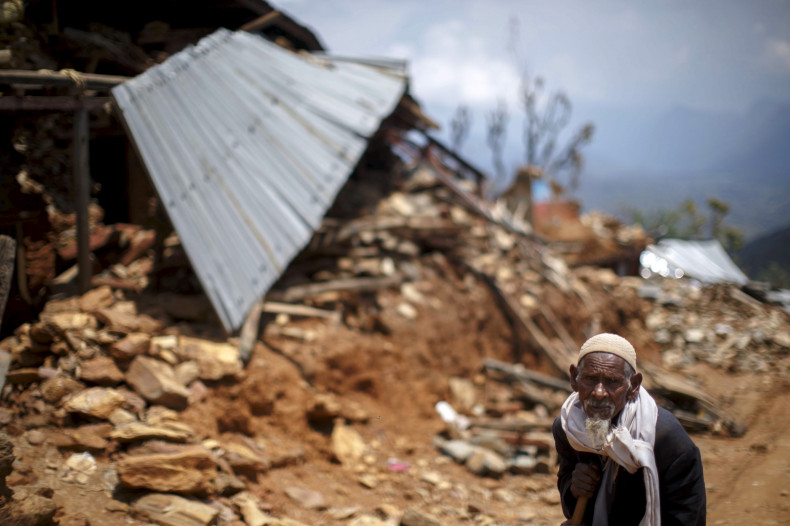 Aid agencies are being forced to turn to India to ensure their supplies reach the hardest-hit areas in Nepal as the capital's sole airport continues to face a logjam, as the pressure to deliver rises.
Aid is slowly reaching the more rural and remote areas of Nepal, where entire communities in the tiny hamlets clinging to the mountainsides of Gorkha District have been made homeless by Saturday's 7.8-magnitude earthquake.
NGO Mercy Corps, however, says it has been forced to "order supplies from India by the thousands".
"We're going through India because we're hoping that the land route will be better than getting things bottled-up at the airport," Christy Delafield, communication officer for the NGO, told IBTimes UK from Kathmandu on Thursday (30 April).
The Tribhuvan International Airport in Kathmandu typically handles 40 flights per day, but in the aftermath of the earthquake, that number has nearly doubled, as transportation options have been damaged or disabled.
For five days now, military and emergency relief teams have been trying to get in, while travellers who have been stranded since the disaster are struggling to get out.
"My co-worker, who was supposed to arrive yesterday [Wednesday] morning, got in around 9 o'clock at night because she was rerouted to Dhaka because her flight was unable to land in Kathmandu," Delafield explained.
Her flight circled Tribhuvan International Airport for about three hours.
"The airports are overwhelmed," she added.
"We don't have any advance notification of rescue flight movements from abroad, of how many and which countries and how many aircraft. That is one problem," Tek Nath Sitaula, the airport's deputy director, told The Straits Times on Tuesday. "We have only nine parking bays."
No food for 48 hours, say stranded travellers
A US traveller, desperate to leave Kathmandu, Casey Schreiner, spent two and a half days at Kathmandu airport, awaiting for an early KTM flight to Los Angeles, via Kuala Lumpur.
From the terminal, he reported that: "Malaysia Air continues to have flights diverted while India and China seem to have full control of the runway.
"A massive Chinese military plane made a big show with media [on Tuesday 28 April] and took up two runway slots for two hours. Three Malaysia Airline planes were refused landing and now I'm stuck here another night," he said.
"Right now, airlines are just trying to get people out to functional airports. KTM is a total nightmare s**tshow – nobody is in charge of anything and there's zero information, but for the most part people have been kind and patient."
On Wednesday, however, Schreiner managed to board a flight, which was further delayed in Bangladesh.
"Getting out basically involved me bum-rushing a plane's boarding line but it seems the worst is over. I'm now even eating actual food for the first time in 48-plus hours!" he said.
Finally reaching the hardest-hit communities
On Wednesday, a Mercy Corps team also managed to obtain access to a helicopter, reaching the village of Ghyachhok in the Gorkha district.
In another village, a group of women were reported to have been sharing an "overflowing, vile latrine" since their home in the remote district of Gorkha was destroyed, and the women were in desperate need of water.
In the ravaged hamlets, lives were spared, Delafield said, but villagers are in desperate need for tarpaulins.
"The monsoon season is not too far off, and so many houses are inhabitable," she explained.
Six other teams, which were sent out to five different districts on Wednesday, have been navigating landslides and are hard-trekking through muddy areas to get to these locations.
"This is an area that is inaccessible by road at the moment. Our main objective is to get things which we know for certain are needed, including water purification tablets, tarpaulins and cooking utensils. Giving people a stop-gap measure until we can get access by road again and more assistance in," Delafield said on Thursday.
Police in Nepal say the death toll from Saturday's earthquake, which was centered in the Gorkha district just outside Kathmandu, has topped 5,500, while another 11,440 people have been injured.