Nepal Plane Crash Kills 19 Including Seven Britons [VIDEO + PHOTOS]
A plane crash near Nepal's capital Kathmandu has killed all 19 people on board including seven Britons.
The small plane was operated by the private airline Sita Air. The twin-engine propeller-driven Dornier aircraft came down immediately after it took off, crashing into a nearby river bank before catching fire.
In addition to the British passengers, the flight's victims included five Chinese and seven Nepalese.
"All 19 passengers of the Sita Air plane have died. The accident site is less than one kilometre (half a mile) from the airport. The pilots seem to have tried to land it safely on the banks of the river but unfortunately the plane caught fire," said Nepali police spokesperson Binod Singh.
Even before military personnel and the police rushed to the scene, the plane was in flames, according to reports.
The passengers were heading to Lukla in the Everest region, a place renowned for trekking. The exact cause of the crash is not clear but the weather was said to be perfect.
"I was just walking and saw a plane landing. It was caught in fire and I even heard people inside the plane screaming," one of the witnesses told local broadcaster Kantipur Television.
Local TV channels showed a dozen bodies lined up beside the wreckage.
"We understand that British nationals may be involved, and we are urgently seeking to confirm what has happened. Our embassy in Kathmandu is talking to the airline and local authorities to find out whether Britons were involved," said a spokesperson for the UK Foreign and Commonwealth Office [FCO].
Anyone concerned about the safety of friends, family or relatives should ring the FCO helpline on 020 7008 1500.
The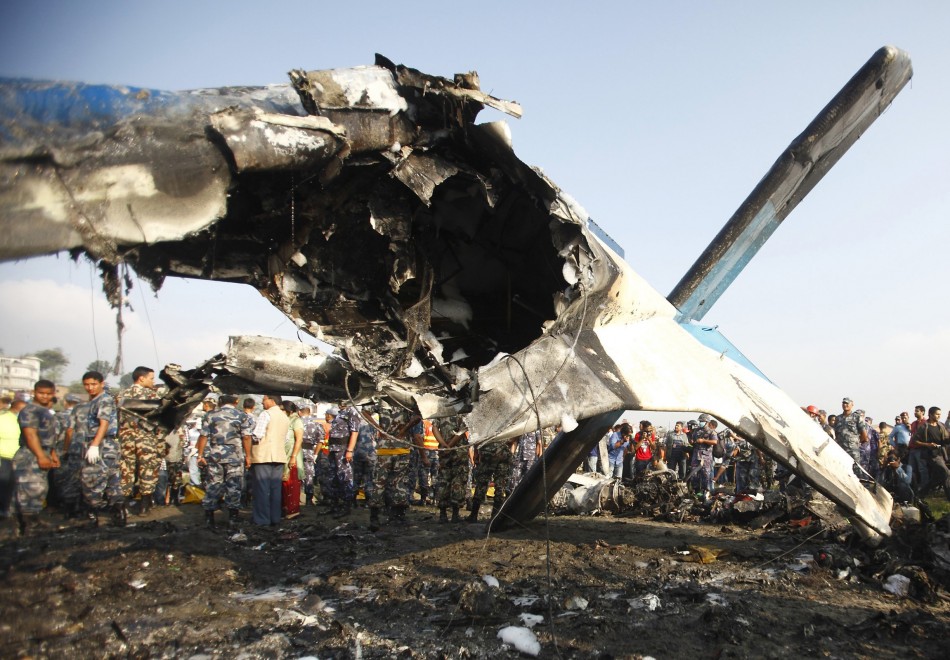 © Copyright IBTimes 2023. All rights reserved.