Netanyahu claims Iran is building missile sites in Syria and Lebanon to use against Israel
The Israeli prime minister also accused the United Nations of treating his country unfairly in the Palestine conflict.
Israeli Prime Minister Benjamin Netanyahu has accused Iran of building precision-guided missiles in Syria and Lebanon for use against his country. Tehran did not immediately comment on the allegations.
Netanyahu made the claims on Monday (28 August) at the start of a meeting with United Nations secretary general Antonio Guterres, who is on a three-day visit to the region.
"Iran is busy turning Syria into a base of military entrenchment, and it wants to use Syria and Lebanon as warfronts against its declared goal to eradicate Israel," Al Jazeera quoted Netanyahu as saying in Tel Aviv.
"[Iran] is also building sites to produce precision-guided missiles towards that end in both Syria and in Lebanon," he added, without giving any specifics on the basis for his claims. "This is something Israel cannot accept. This is something the UN should not accept," he said.
He also accused the UN of treating Israel unfairly and urged Guterres to address the issue.
"There is no question that we've had a troubled relationship with the UN," Netanyahu said, referring to the difference in stance over Palestinian settlements.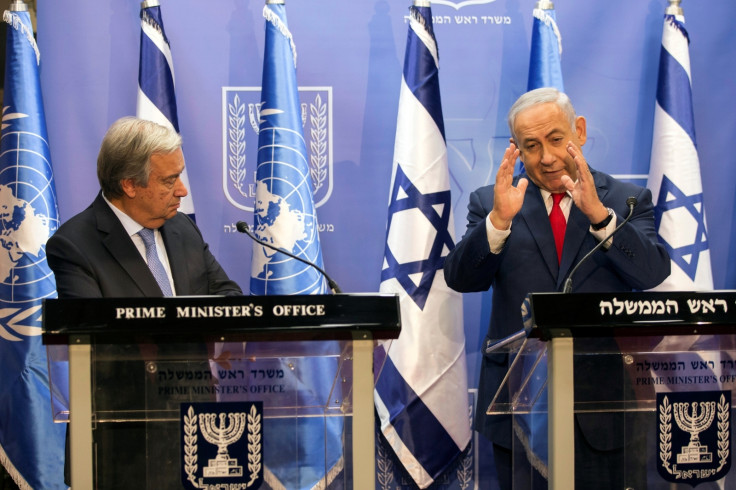 Unesco, the global body's cultural arm, had passed a resolution in May criticising Israel's actions in occupied Jerusalem and the Gaza Strip. Later in July, Unesco further angered Israel by listing the Old City of Hebron in West Bank as an endangered Palestinian world heritage site.
"I think it [the UN] has an absurd obsession with Israel, flagrantly discriminatory tactics — you don't have to be the Israeli prime minister to understand that," Netanyahu said during a joint press conference with Guterres.
The Israeli prime minister also urged the UN chief to press Unifil (United Nations Interim Force in Lebanon) to prevent arms build up by Hezbollah — a Shia political party that has the backing of Iran and plays a major role in the Iran-Israel conflict.
Meanwhile, the UN Security Council is expected to vote on Wednesday (30 August) to decide on the renewal of Unifil's mandate for a year. Netanyahu has urged the UN chief to take appropriate measures keeping Hezbollah in mind.
Guterres reportedly assured him saying that "I will do everything in my capacity" to ensure Unifil fulfils its obligations in Lebanon.
The UN chief also pressed Israel to agree to a two-state solution to put an end to the conflict between Israel and the Palestinian authority. "I dream that I will have the chance to see in the Holy Land two states able to live together in mutual recognition, but also in peace and security," Guterres noted.
© Copyright IBTimes 2023. All rights reserved.