Israel on late Wednesday (26 July) removed more security installations including metal railings, gates and scaffoldings from the entrance to the al-Aqsa mosque, known to Jews as the Temple Mount, in Jerusalem's Old City after the public protest in recent days.
Meanwhile, Prime Minister Benjamin Netanyahu has threatened to shut down Al Jazeera's office in Jerusalem for its coverage of the tensions.
"The Al-Jazeera network continues to incite to violence over the Temple Mount. I've several times appealed to law enforcement agencies demanding to close Al-Jazeera's office in Jerusalem. If this does not happen due to legal interpretation, I will work to enact the required legislation to expel Al-Jazeera from Israel," Netanyahu wrote in a social media post.
Heavy security arrangements were made at the al-Aqsa mosque after an attack near the compound.
Palestinians were quick to celebrate the removal of the security measures from the entrance of the mosque in Jerusalem. They began to gather in the early hours on Thursday, 27 July and some of them burst firecrackers as the Israeli security forces watched.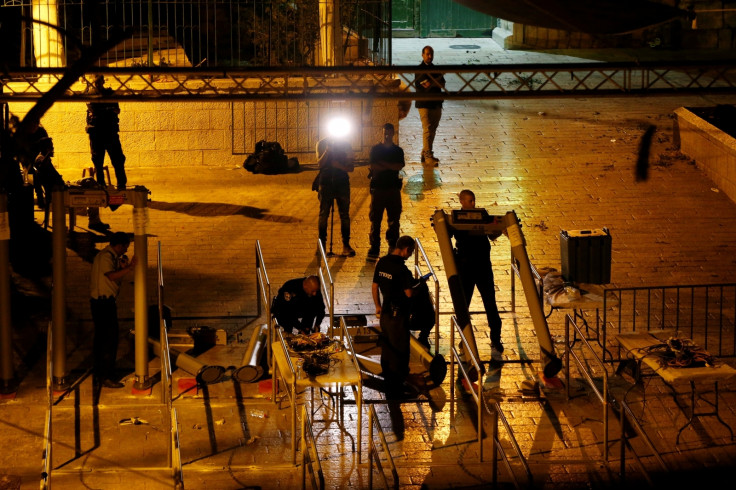 "Today is a joyful day, full of celebration and sorrow at the same time - sorrow for the people who lost their lives and were injured," a Palestinian protester told the Al Jazeera. "We are under occupation and the al-Aqsa Mosque is a red-line to everyone in Jerusalem – actually, to everyone in Palestine, and all over the Muslim world - but much more for the people of [Jerusalem]. It's dearer than their own lives."
The compound has been witnessing a serious standoff between Muslim worshippers and Israeli security forces in recent days with no credible solution. There were constant concerns that the situation could escalate further. Muslims have refused to enter the mosque for more than a week and prayed outside in the streets as a mark of protest.