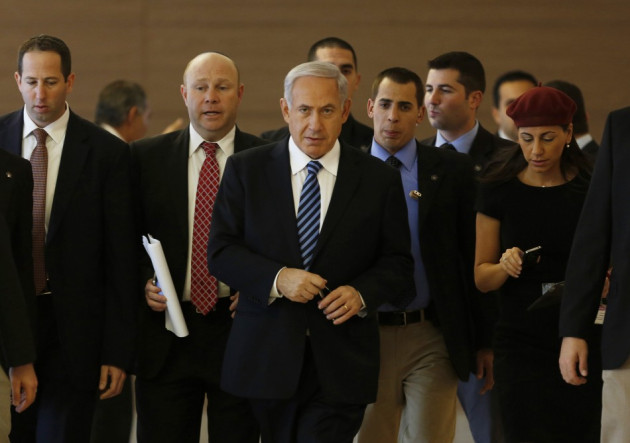 Israel's former foreign minister Avigdor Lieberman has claimed that anyone who believes in a peace deal with the Palestinians is "delusional" as prime minister Benjamin Netanyahu's government is poised to be sworn in.
Lieberman, who leads the Likud-allied Yisrael Beitenu party, is barred from sitting in the cabinet because of breach of trust and fraud charges over him. But the hardliner, who said the conflict with Palestinians cannot be solved and "needs to be managed", still has influence over the new government.
After 40 days of negotiations, Netanyahu announced he had reached a deal to put together a new administration. He leads a majority of just 68 within the 120-seat knesset, the Israeli parliament.
Before the ceremony to install the coalition government, he declared he was ready to "extend our hand in peace to the Palestinians" and make a historic compromise.
"Israel has proven time and again it is ready for concessions in exchange for real peace, and the situation today is no different," he said.
"With a Palestinian partner that is willing to hold negotiations in goodwill, Israel will be ready for a historic compromise that will end the conflict with the Palestinians once and for all," he said.
His comments came on the eve of a visit by US president Barack Obama, due on Wednesday. The White House has said Obama would not bring any fresh peace initiatives with him.
The Israeli government line-up is predominantly rightwing, despite a strong election result by new secular centrist Yesh Atid party (19 seats). Centrist Ehud Barak has been replaced by Moshe Ya'alon, a pro-settlement former military chief of staff with Likud, as defence minister.
Ya'alon has experience in planning extrajudicial assassinations abroad and massive destruction and displacement in the Gaza Strip, according to Sergio Yahni of the Alternative Information Centre.
"In May 2004, under Ya'alon's command the Israeli army launched a major military campaign in the Gaza Strip that resulted in unprecedented destruction," Yahni wrote.
"During that operation the army razed entire rows of houses along the border with Egypt and caused extensive destruction deep inside Rafah. Israeli armoured Caterpillar D9 bulldozers indiscriminately ripped up roads, destroyed water and sewage systems, and turned agricultural fields into barren patches of earth.
"According to Human Rights Watch, these incursions left 254 houses destroyed and nearly 3,800 people homeless," he continued. "Accusations of possible war crimes and crimes against humanity have been levelled against Ya'alon for these military operations."
Incoming deputy defence minister Danny Danon said: "The era of Ehud Barak is over. The new government will strengthen settlement in Judaea and Samaria." He used the biblical term for the occupied territories in the West Bank.
Ultra-nationalist Uri Ariel, one of the leaders of the far-right Jewish Home party of Naftali Bennett, was given the post of housing minister. He is a vocal opponent of the Palestinian state.
The Daily Beast reported that ahead of Obama's visit, Netanyahu has ordered a stop on all talk of new settlement construction in East Jerusalem or the West Bank.
"The aim is to avoid the kind of confrontation that happened three years ago, when Israel's interior ministry announced the construction of 1,600 homes in East Jerusalem, the part of the city Palestinians expect will one day be the capital of its Palestine, while vice-president Joe Biden visited Israel," Eli Lake wrote.