Great Britain men's hockey team's hopes of repeating their Olympic triumph from 1988 ended with a record defeat at the hands of Netherlands.
Having stayed unbeaten throughout the group phase, Team GB were well fancied against a Dutch side who had won all five of their preliminary games.
But instead Netherlands produced a dazzling display underpinned by ruthless finishing, which saw GB crash to their highest ever defeat in international history.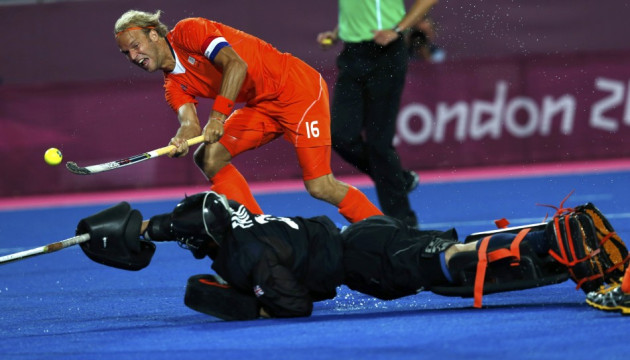 Netherlands will face Germany in the gold medal final in a repeat of the pool match between the two, while GB have the consolation of a bronze medal match against the world No.1 side Australia.
Roderick Weusthof scored twice inside the first 15 minutes to set the Dutch on their way, before Ashley Jackson cut the deficit.
But Mink van der Weerden netted just four minutes later, and Billy Bakker just before half time to extend their lead to three.
Britain attempted to find a way back into the match and after Jackson's corner was blocked, Netherlands capitalised the way they only know how, with Bakker scoring twice to complete his hat-trick, either side of Floris Evers' goal.
Weusthof made it nine before Rob Moore scored a scant consolation for GB, who like their female counterparts, missed out on the gold medal match in disappointing circumstances.
Captain Barry Middleton said: "My emotions are pretty flat, mostly pretty embarrassed I think. We let a few people down, even at 9-1 people were shouting for us and that was amazing but we didn't turn up and we know we've let ourselves down today.
"They did everything better than us and I can't explain why and I've never seen us like that and to do it in such a big game is so sad for me as a player and everyone here and we'll go away and all we can do is look at the video.
"We didn't work hard enough, we didn't do enough on the ball. It wasn't tactical or anything like that but we let ourselves down.
"It is a good Netherlands side, but I think we've made them look very good," he added. "But as I said if we win some races out there and work as hard as they did then we get a lot closer to them. I don't think that if we play them ten times that wouldn't be a consistent score line that was a freak one and it's all in our hands and we did it.
"At 2-1 we're still back in it, even at 4-1 we came out after half time and we started well.
"We had a few corners and then had a good chance when we were two-on-one through on the goalie and they got a little break and they go down the other end and score.
"The timing of the goals knocked us back a bit and I think you saw when they get ahead like that they're brilliant players and they just want to play hockey."