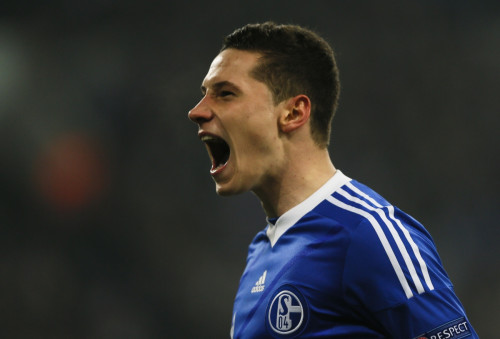 German great Gunter Netzer has urged Julian Draxler to rebuff any approaches from foreign clubs and complete his development in Schalke before moving out of the country.
The 20-year-old was vehemently linked with a £37m move to Arsenal in January but the German club refused to part with their best player who is yet to return to full time action after suffering an injury.
The youngster is regarded as one of the best players to come out of the country in recent years and was reportedly scouted by Arsene Wenger to convert him into a striker in the same ilk as Thierry Henry and Robin van Persie.
The player can play on the wing and behind the striker but has the physique to play up front if needed. His arrival in winter would have given the Gunners an impetus to claim the title but are now reeling after a humiliating 5-1 defeat to Liverpool at Anfield.
The north London club are likely to move back in for the midfielder in the summer but Netzer has urged the player to practise caution before taking any step which may jeopardise his career.
"It is not yet decided where the path really leads for Draxler. He identifies himself with Schalke, which is currently his sporting home. He is an exceptional talent with great prospects for a bright future.
"But his development is far from complete. For such a young man step into a top European team is difficult. Right off the bat to be a regular is a great challenge," he told the Bild.
"Therefore, one must very carefully weigh up the decision because the development options are better for young players, if you are constantly used, instead of only hoping for occasional substitute appearances.
"With Draxler I fell the time is not yet come for a change. I would recommend that he mature at Schalke for a while and continue to perform in the national team," he concluded.