Never Trump: Which Republicans are backing Donald for president and who is rebelling?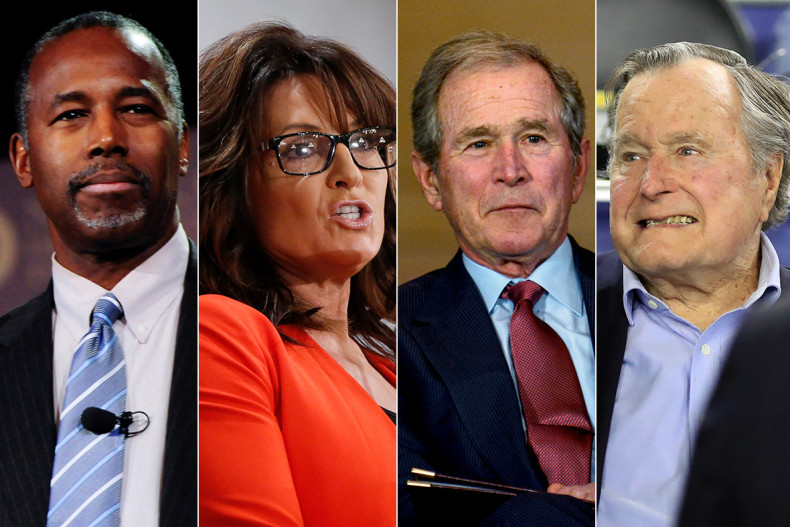 Donald Trump is now the last Republican left in the presidential race, having been presumptive nominee since his success in the Indiana primary.
The GOP outsider, whose campaign gained momentum to widespread disbelief from the political mainstream, saw his two remaining rivals Ted Cruz and John Kasich step down this week, although technically Trump must still clear 1,237 delegates ahead of the national convention in July.
But while some of his former rivals and naysayers have lined up behind the billionaire – along with supporters from the far-right and alt-right – there are still many Republicans who have refused to give The Donald their backing.
Indeed, some GOP members have said they will 'support the Republican nominee' without specifically endorsing Trump for the presidency – something that many previous Cruz and Kasich backers will have to do if they wish to avoid a messy convention.
The presidential hopeful has also seen endorsements from overseas politicians, including the UK's Britain First and Ukip, as well as American College Football hall of famer Lou Holtz.
So, who is giving the GOP hopeful their full endorsement, who's staying silent, and who's changing their tune as the reality of a Trump ticket sets in?
Who's in?
Former Alaska governor Sarah Palin
Palin was backed by Trump on the McCain/Palin ticket in 2008, and she threw her support behind Trump early in the race – prompting pundits to speculate she is seeking a nod from Trump for VP.
Former presidential hopeful Chris Christie
Less than two weeks after ending his own Republican campaign in February, Christie backed Trump and paid a huge price for it, facing calls to resign and ridicule in national press and on social media, where the hashtag #FreeChrisChristie trended.
Former presidential hopeful Ben Carson
Not only did former presidential hopeful Ben Carson endorse Trump after dropping out of the Republican race in March, he has since been a vocal supporter of The Donald and will sit on the VP selection committee.
Former KKK leader David Duke
While Duke hasn't formally endorsed Trump, he said he will be voting for The Donald and has encouraged others to do so, saying anyone who doesn't vote for him is committing 'treason to their heritage'.
Who's out?
Former US president George W Bush
In an unusual move, former president George 'Dubba' Bush is not endorsing the Republican candidate, no doubt due to the personal insults flung at George's brother Jeb Bush at the beginning of the Republican candidates' campaigns. This also included Trump accusing George of failing Americans over 9/11.
Former US president George Bush
The 41<sup>st president of the US is also not officially endorsing the Republican candidate this year, despite having done so in previous election years. His spokesperson said he had retired from politics and only participated to help his son Jeb in the race, although there is no doubt Bush Sr was not thrilled about Trump's attacks on his children.
Former presidential hopeful Jeb Bush
The third Bush unlikely to throw his support behind Trump's presidential bid, Jeb pulled out of the Republican race in February after a defeat in South Carolina. He threw his support behind Ted Cruz in March 'to overcome the divisiveness and vulgarity Donald Trump has brought into the political arena'. Given his previous statements, a Trump endorsement from Jeb would be very surprising.
Mitt Romney
Despite wooing Trump's backing for his own failed election bid in 2008, Romney has spoken passionately against The Donald's bid for the White House.
Florida Republican Carlos Curbelo
Curbelo's position is vulnerable, and made more so by Trump. He is up for re-election in a district that could vote either way, and which is a Latino-majority district – a group Trump does not poll well with. Curbelo was rumoured to be considering crossing the floor if Trump got the nomination, but has lately said he would not vote for Trump or Clinton.
Who's changed their tune?
New York Republican chairman Ed Cox
Cox had been criticised for controversially not throwing his backing behind Trump earlier, taking two days to make his endorsement following Trump's victory in New York, which was seen by many as a snub to the businessman.
Senate majority whip John Corbyn
Initially described a Trump nomination as being an 'albatross' to the party, Corbyn backtracked this week stating things would be 'OK' with Trump at the helm of the GOP.
UK Prime Minister David Cameron
Despite refusing to apologise for describing Trump's plan to ban Muslims from entering the US as 'divisive' and 'stupid', Cameron has now offered an olive branch, reportedly saying anyone who had made it through the presidential primaries 'deserves our respect'.