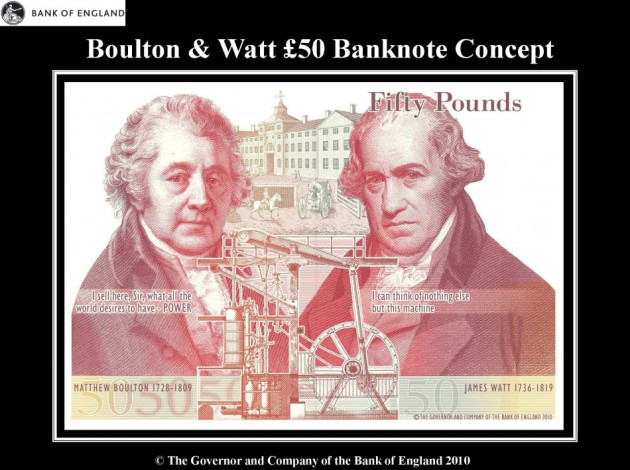 The new £50 note, released today, sends a patriotic message to British innovators and entrepreneurs remembering "what this country was built on."
Tarnished with the familiar rose colour, the note features the renown 18th century business partnership of entrepreneur Matthew Boulton and engineer James Watt.
Bank of England Governor, Mervyn King, said: "Boulton and Watt's steam engines and their many other innovations were essential factors in the nation's Industrial Revolution. The partnership of an innovator and an entrepreneur created exactly the kind of commercial success that we will need in this country as we rebalance our economy over the years ahead."
In a recent speech to the conservative party conference, referring to his big society project, the prime minster, David Cameron, remarked on how Britain must "Pull together" and "Look for the size of the fight in the dog."
The Boulton and Watt £50 banknote marks the first time two portraits have appeared together on the back of a Bank of England banknote. It will also be the first banknote in circulation to be signed by Chris Salmon, who was appointed as the Bank's Executive Director for Banking Services and Chief Cashier in April 2011.