New Barcelona signing Lucas Digne names Zidane and Roberto Carlos as his idols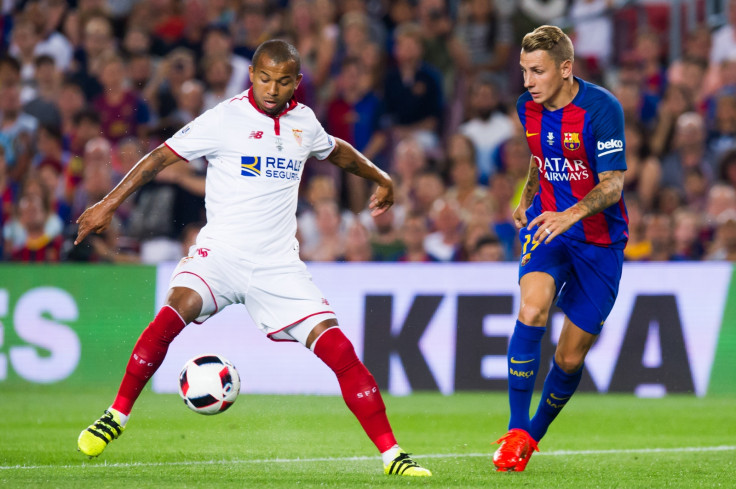 KEY POINTS
Frenchman says the Real Madrid galacticos were among his childhood idols.
Former PSG left-back ready to fight with Alba for a place in Luis Enrique's line-up.
New Barcelona signing Lucas Digne has named Real Madrid manager Zinedine Zidane and his former Galactico teammate Roberto Carlos among his two biggest idols. The France international left-back said that he had always had the passing game of the Catalan club as his biggest football idol, adding that he even joked with his parents about playing at the Nou Camp when he was a child.
The 23-year-old left-back made the move from Paris Saint Germain to the La Liga giants earlier in the summer in a deal worth €16.5m (£13.7m, $18.3m) plus add-ons. The Frenchman was also known in Serie A through a loan spell at Roma in the 2015-2016 campaign but suggested that playing in La Liga and especially for Barcelona was always his dream.
"Barcelona is the reference point for football. For La Masia, the club, the way of playing. Barça is football," Digne said during an interview with Sport. "The story is that when I was little I joked with my parents and told them I was going to play at Camp Nou. They told me "We will see, we will see..." It's a dream for all of us, an incredible thing for a 23-year-old player.
Digne thus doesn't hesitate to name Lionel Messi as the best player in the world, but admitting that during his childhood his compatriot Zidane was his idol.
"Zidane was my idol, but today it's very clear – Messi is the best in the world," Digne said.
The Real Madrid current manager was part of the famous Galacticos team who won the Champions League 2001-2002 along the likes of Louis Figo, Raúl González Blanco and Roberto Carlos. Digne admits that the Brazilian left-back, considered one of the best of all times in his position, was a mirror for him despite playing at Real Madrid while also highlighted the versatile Philipp Lahm.
"I liked Roberto Carlos. He was very good attacking and defending. I also like Philipp Lahm, who can play in the middle of the pitch and defence," he said.
Digne will have to fight for his place at Barcelona with another highly-rated left-back like Jordi Alba. The Frenchman is ready for the challenge but added he only cares about helping the team to win titles.
"Jordi is a great player and the team is the most important thing. What's fundamental is that we all give our maximum and the team will be stronger", Digne said. "I insist, the team is the most important thing, we all have to contribute.Barcelona is the biggest club in the world. We have to give everything to win the Champions League."
© Copyright IBTimes 2023. All rights reserved.