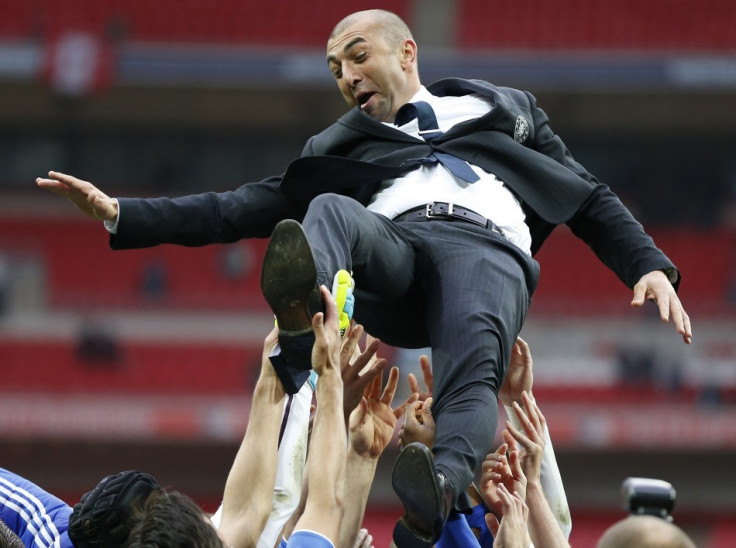 Reports on Monday suggest interim manager Roberto Di Matteo will be named full-time manager sometime this week. The Italian's representatives held talks with Blues' officials over the weekend and the 42 year old has agreed to accept the managerial role, with contractual terms set to be sorted out before the announcement, BBC reported.
Di Matteo took over at Stamford Bridge, after Portuguese Andre Villas-Boas was shown the door in March. The former Blues' midfielder went on to guide the team to FA Cup and Champions League glory during his stint, making a strong case to club owner Roman Abramovich and chairman Bruce Buck to offer him the role on a permanent basis.
According to The Sun, Abramovich was holding out for former Barcelona boss Pep Guardiola, who is taking a year's sabbatical from management. However, it now appears the Russian has offered the role to Di Matteo following repeated requests from senior players looking to build on last season's triumphs rather than start from square one under a new boss.
However, the length of the contract remains a mystery. Di Matteo was understood to have expressed his reluctance to accept a short-term deal again, fearing it would affect his authority to make big calls. It is now believed both parties have agreed to a long-term contract, with a clause that will allow either to break it after a season.
The Italian also enjoyed success as a Chelsea player, winning two FA Cups, a League Cup and a Cup Winners' Cup during his six years at Stamford Bridge.
Meanwhile, Blues' midfielder Ramires admitted he could return to former club Cruzeiro in the future. The Brazilian spent two seasons with the Minas Gerais club before moving to Europe with Benfica in 2009 and then to Chelsea a year later.
"If Cruzeiro are interested, it's possible for me to go back. Although it's not a decision I can make and difficult because my price is very high. If Cruzeiro could raise the money, I would go back for sure," ESPN quoted Ramires as saying.
"I was happy at Cruzeiro and felt an obligation to return at some point as the club offered me a chance to launch my sport career in Europe. I still follow their matches on the internet. The fans were always good to me and named me 'Ramires the Warrior'. I still keep all the videos of when I played at the club and in difficult moments at Chelsea I watch them to increase my morale," the 25 year old added.