Police in Delhi are to take legal action against a TV station that broadcast an interview with the only witness in the gang rape case that has horrified India.
The man, a friend of the victim who was with her during the attack, was heavily critical of the initial police response to their ordeal, saying police failed in their duty of care and wasted vital time. The victim, who has become known to millions of Indians as "Brave Heart", later died of her injuries in a hospital in Singapore.
In his first public account of the attack, which occurred on 26 December, the man told Zee News: "I want to tell what I faced, what my friend faced."
He blamed police for failing to provide basic care to the victim at the scene. "Three police vans arrived at the scene after about 45 minutes, but wasted time deciding under which police station's jurisdiction the case fell," he said.
He said he had been forced to carry his bleeding friend to the police van himself, since police "didn't help us". "They were just watching us. My friend was bleeding profusely and they were probably worried about their clothes," he said. "I was more concerned about her. But instead of taking us to a nearby hospital, they took us to a hospital that was far away."
The man gave a detailed description of the assault, saying the two had been tricked on to the bus by their attackers, who then beat them with an iron bar. "They had laid a trap for us - they had everything planned. Apart from the driver and the helper, others behaved like they were passengers. We even paid the fare. They then started teasing my friend and it led to a brawl. I beat three of them up but then the rest of them brought out an iron rod and hit me. Before I fell unconscious, they took my friend away.
"They switched off the lights of the bus. We tried to resist them. Even my friend fought with them. She tried to save me. She tried to dial the police, but the attackers snatched her mobile away. They beat us up, hit us with an iron rod, snatched our clothes and belongings and threw us off the bus on a deserted stretch. They tried to mow us down but I saved my friend by pulling her away in the nick of time. We were without clothes."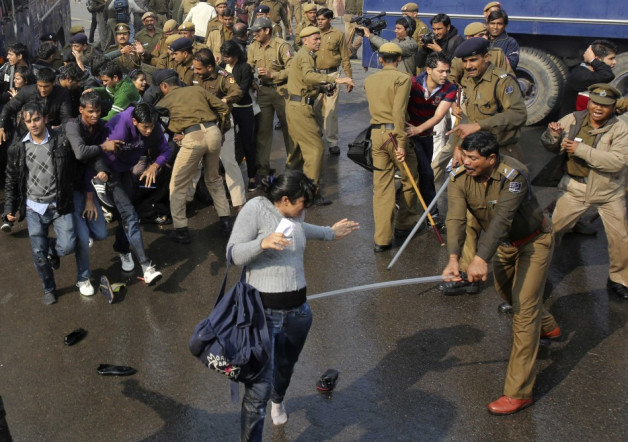 Passers-by failed to come to their assistance, he added. "Several auto rickshaws, cars and bikes slowed down but none stopped for about 25 minutes. Nobody from the public helped us."
Medical care provided by the hospital was also inadequate, said the man, who complained he had yet to be contacted by a government official, despite the national outcry. "Even at the hospital, we were made to wait. I literally had to beg for clothes," he said. "No one from the government has contacted me so far to ask about my treatment. I have been paying for my own treatment so far."
Delhi police have confirmed they will file a case against Zee News for broadcasting the interview. The case will be filed under Section 228 (A) of the Indian Penal Code, which deals with the disclosure of identity of victims of certain crimes, including rape.