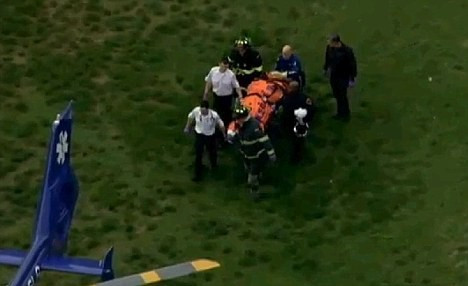 A heroic construction worker threw himself in a container of corrosive acid to save a colleague who landed in it after falling 40ft through a rotting roof.
Martin Davis, 44, a father of two, fell into the vat of nitric acid while working a manufacturing plant in Clifton, New Jersey.
Davis was submerged in the waist-high liquid when friend and colleague, Rob Nuckols, dived in after him, saving his life.
Nuckols, 51, along with two other colleagues, pulled Davis out. He was unconscious, so his co-workers cut off his clothes and doused him with water before the ambulance arrived.
The other rescuers were identified as Rob Fulton, 24, Joe Dabkowski,45, and William Walker, who is in his 20s, according to northjersey.com.
Despite declining to make a statement to the press, Nuckols told firefighters on the scene: "I had to get him out of there."
Davis was reported to be in critical condition with a broken rib, punctured lung and burns on his legs and side, though he is expected to recover.
His brother, John, who also works in construction, said: "In our trade we stick together. It's a serious business. You'll die out there. You've got your family to feed and you have got to protect each other."
Commenting on his brother's condition, Davis said he thought "he will fight right through this".
"They had him on a breathing apparatus," he said. "His condition is not so good. But he's a young guy. He'll pull through."
Fire chief Vincent Colavitti Jr described the severely injured Davis as in shock and bright red, though coherent.
Colavitti praised Nuckols' actions: "It takes a lot of courage. He saw one of his co-workers in trouble and he jumped in after him."