New Jersey governor Chris Christie has apologised for a political scandal in which his top aides closed two lanes onto the George Washington Bridge as an act of political punishment.
At a press conference Christie said he was "embarrassed and humiliated by the conduct of some of the people on my staff" and announced that he fired deputy chief of staff Bridget Anne Kelly, allegedly responsible for the closure.
"I come out here today to apologise to the people of New Jersey," he said. "I apologise to the people of Fort Lee and I apologise to the state legislature."
The scandal came out after US media published incriminating emails and text messages showing that Kelly and two appointees to the Port Authority of New York closed two lanes to the George Washington Bridge - one of the world's busiest bridges – in September. The closure of the bridge, which connects New York City to Fort Lee, caused hours-long traffic jams, gridlock and even blocked the passage of school buses and ambulances, endangering lives.
The email correspondence between Kelly and Port Authority executives Bill Baroni and David Wildestein – a high school friend of the governor - shows that the move was designed to punish Fort Lee mayor for not endorsing the governor during a re-election race.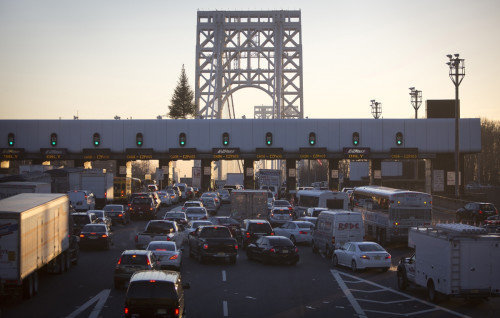 "Time for some traffic problems in Fort Lee," Kelly wrote to Wildestein. The executive replied "Got it." In another text message, Wildestein mocked concerns that school buses with students were stuck in gridlock: "They are the children of Buono voters," he wrote, referring to Christie's contender Barbara Buono.
The scandal throws a sinister light to one of the possible Republican contender for the 2016 White House elections. Since Hurricane Sandy, Christie has nurtured his image of moderate Republican, dragging praise from Democrats to independent voters.
"I am who I am, but I am not a bully," Christie said, adding that he was "blindsided" by the release of the explosive messages. ""I knew nothing about this."
Officials from Fort Lee town said that an old woman who suffered a heart attack died after the ambulance was late in reaching her because of traffic problems.
"I am stunned by the abject stupidity that was shown here regardless of what the facts ultimately uncover. This was handled in a callous and indifferent way," he said.
Christie also told Bill Stepien, his 2013 campaign manager, not to apply to become state party chairman or to work with the Republican Governors Association.
Earlier, a state senator called for a federal investigation into Christie's administration.
But what's next for the possible White House contender?
Here is Reuters' take on this:
- A New Jersey assembly committee will review the closure decision
- Christie will probably apologise to the mayor targeted by Christie's aides
- More information on the investigation will be released by the US attorney's office in New Jersey.