France: Marion Maréchal-Le Pen Keeps it in Front National Family with Election Win for Far-Right Party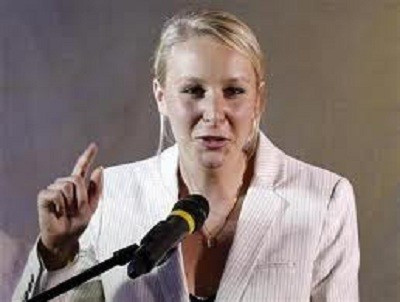 Marion Maréchal-Le Pen, Marine Le Pen's niece, wins one of Front National party's two parliamentary seats
Reuters
Marion Maréchal-Le Pen, Jean-Marie Le Pen's granddaughter and niece of Front National party leader Marine Le Pen, has clinched one of the far-right party's two parliamentary seats - a first since the mid-1980s.
The 22-year-old, who joined the party at the age of 17, took the lead after gaining 49.09 percent of the vote in her southeastern constituency in the Vaucluse department, despite little political experience.
With her grandfather by her side, the youngest French MP welcomed the results and warned that it marked a turning point for the future of the party.
"I am happy to [be] the spokeswoman for this French youth that tomorrow will be spearheading new hope in the shape of the National Front," she said from the Provençal town of Carpentras.
"6.4 million French voters have already joined us [in the presidential elections] and it's just the beginning."
Positioning herself as the defender of French identity and way of life, Maréchal-Le Pen's campaign platform was similar to that of her aunt, Marine Le Pen, and focused on cuts to immigration, crime, and the dangers of globalisation.
She celebrated her victory on the same night her aunt was defeated in her constituency of Hénin Beaumont in the northern region of Pas de Calais.
She lost by 118 votes to Socialist opponent Philippe Kemel and has called for a recount.
The 43-year-old FN party leader described her niece's victory as a "huge success".
The National Front, she said, "finally smashed a glass ceiling in place for the past 25 years".
"The new make-up of [French] political life is under way. The UMP [centre-right Union for a Popular Movement]is paying for its ideological contradictions and its political compromises," she added.
Party founder Jean-Marie Le Pen, 84, said of the results: "A part of me is rejoicing and another is in pain."
He said politics could be as "genetic as art or music". "Those who accuse us of nepotism are imbeciles," he said.
The Front National won three parliamentary seats in 1986 but they were lost after a system of proportional representation brought in by Socialist president Francois Mitterrand was scrapped by his successor, Jacques Chirac.
In 1997 the party won another seat, but the result was cancelled after the FN candidate was expelled for breaching electoral rules.