New Samsung app hits the brakes on texting while driving
App is currently in a beta test programme but will be made available more widely in May.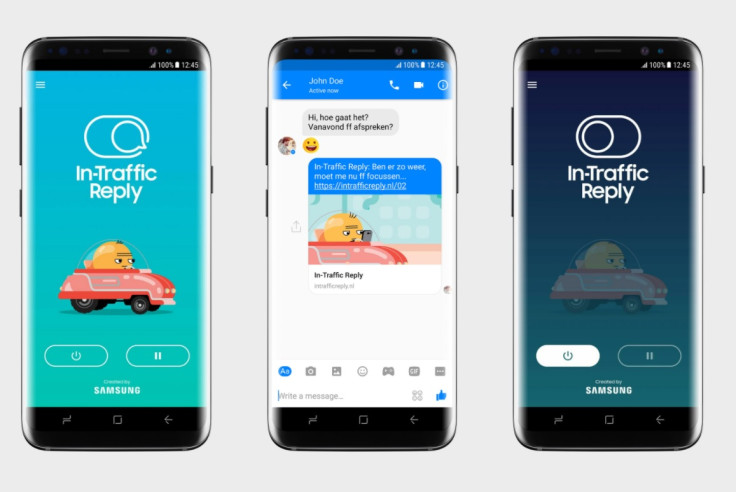 A new smartphone application created by Samsung is hoping to kick the seriously problem of driving and texting to the kerb.
Called In-Traffic Reply, the app relies on your phone's GPS chip and accelerometer to work out when you are driving, at which point all incoming calls and texts are replied to with a message or image explaining you are driving and cannot respond right away.
The default message, sent as a text message to anyone trying to contact you, reads: "I'm driving so I cannot answer at the moment". Samsung users can pick an animated image instead, or set up their own automated reply.
For now the app is only available as part of a beta test programme in the Netherlands, with Samsung looking for 500 people to download it and try it out. The app is expected to become available more widely through the Android Play Store in May and will likely be free to download and use.
What isn't clear for now, is how the app works for passengers, as smartphones are currently unable to differentiate between the driver and other occupants in the car – or even if the phone owner is on a bus or other form of transport.
Smartphone manufacturers are under increasing pressure to help prevent customers from using them behind the wheel, just as social media apps making it ever more tempting to do so. The biggest challenge is blocking only the driver from checking their phone, something Apple is working on according to patents published back in 2014. Apple is looking at using the iPhone's camera to determine where in the car the handset is, and therefore who is using it.
In the UK, road safety charity Brake wants to see manufacturers create a ''driving mode'' to sit alongside the ubiquitous Flight Mode, but said more must be done. A spokesperson told IBTimes UK: "There is no single solution. Although we welcome the introduction of a 'driving mode' by smartphone manufacturers, there is also a continued need to educate drivers about the devastating consequences of distracted driving, and for strict law enforcement for those who continue to drive dangerously."
A late-2016 survey by Brake revealed that 49% of British drivers aged between 25 and 34 admitted to using smartphones apps while driving.
© Copyright IBTimes 2023. All rights reserved.