New US ambassador to UN warns allies: Back us or we'll take names
Nikki Haley said the Trump administration was ready to 'fix anything that seems obsolete' within the United Nations.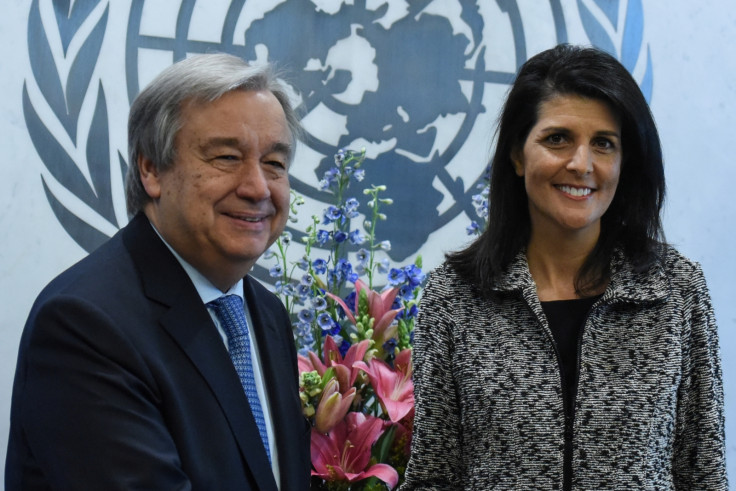 The new US ambassador to the United Nations has thrown down a challenge to her country's allies demanding that they show support or the Trump administration would "start taking names". On arriving at the agency's headquarters in New York on 27 January, Nikki Haley said that the US plans to show its strength and overhaul the world body.
"Our goal with the administration is to show value at the UN and the way that we'll show value is to show our strength, show our voice, have the backs of our allies and make sure that our allies have our back as well," she told reporters.
"For those that don't have our back, we're taking names, we will make points to respond to that accordingly."
The former Republican governor of South Carolina and new UN envoy told the press that it would see changes in the way the agency did business. "Everything that's working, we're going to make it better, everything that's not working we're going to try and fix, and anything that seems to be obsolete and not necessary we're going to do away with," she said.
The Daily Beast reported that the Trump administration is looking into making major cutbacks in UN agencies and personnel by slashing Washington's financial contributions to the global organisation. The president is expected to set up a committee to carry out a one-year review of the US funding but a US official told Reuters that no such executive order was "expected at this time".
Following Haley's meeting with UN Secretary-General Antonio Guterres to present her credentials, France's envoy, François Delattre, said that he had "only good things to say" about her. He did however stress the importance of US' funding, which makes up the largest contribution to the organisation.
"As France's ambassador to Washington in the early 2000s, my key message to the White House was basically, 'Let us breathe. Don't micromanage the world,'" he told reporters. "A few years later, our main message to the American administration is, 'Please stay committed to world affairs, because we need America.'"
Trump himself has previously lashed out at the UN, calling it "a club for people to get together, talk and have a good time" but pointed out that it "has such great potential".
© Copyright IBTimes 2023. All rights reserved.