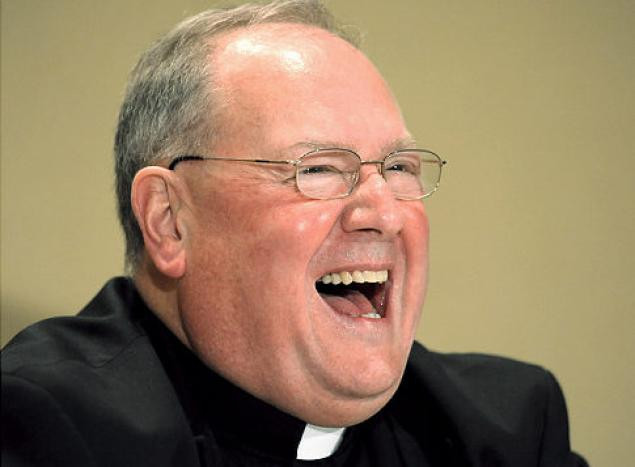 Cardinal Timothy Dolan has said the idea of gay civil unions makes him "uncomfortable".
The Archbishop of New York, who was appointed by Pope Benedict XVI, said that marriage is between a man and a woman and is a sacrament in accordance with God's commandments.
"That's not something that's just a religious, sacramental concern," said Dolan on NBC's Meet the Press.
"But it's also the building block of society and culture. So it belongs to culture. And if we water down that sacred meaning of marriage in any way, I worry that not only the church would suffer, I worry that culture and society would," the archbishop continued.
When host David Gregory asked Dolan if civil unions make him personally uncomfortable.
Dolan quickly replied: "It would".
The archbishop also commended Pope Francis for taking a positive approach towards gay unions.
"Once again in an extraordinarily sincere, open nuanced way, he [ Pope Francis] said, 'I know that some people in some states have chosen this. We need to think about that and look into it and see the reasons that have driven them,'"
"It wasn't as if he came out and approved them."
Dolan continued: "In the sensitivity that has won the heart of the world, he said, 'Rather than quickly condemn them ... let's just ask the questions as to why that is appealing to certain people?'"
The archbishop was also asked about Michael Sam, the University of Missouri football player, who recently came out as gay.
"Good for him," Dolan said. "I would have no sense of judgment on him. God bless ya. I don't think, look, the same bible that tells us that teaches us well about the virtues of chastity and the virtue of fidelity and marriage also tells us not to judge people. So I would say, 'Bravo'."
Notoriously conservative, Nolan strongly also opposes abortion, birth control and divorce.
While he was archbishop of

Milwaukee,

Dolan authorised payments of as much as $20,000 to sexually abusive priests as an incentive for them to agree to dismissal from the priesthood.