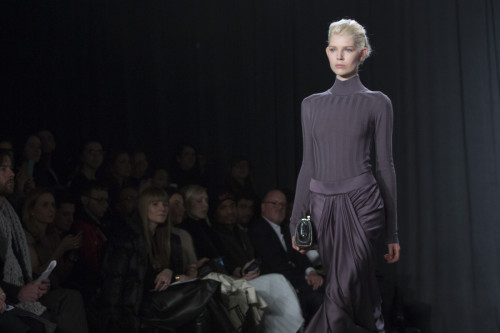 Designer Jason Wu stole the limelight with his luxury fall 2014 collection on the second day of the Mercedes-Benz New York Fashion Week,.
A favourite of US First Lady Michelle Obama, Wu showed luxurious outerwear in his fashion show that had elements of style and romance.
Wu's collection comprised of soft amethysts, powder greys and embroidered blacks.
"The inspiration was really something quite darkly romantic. Unflustered beauty, I call it," Wu was quoted as saying by Reuters.
The New York-based Taiwanese-Canadian fashion designer used luxurious fabrics and materials for his creations. These included the sophisticated angora, alpaca, cashmere and mink fabrics.
"It's the most luxurious outerwear you can possibly imagine," he said.
The collection included three-quarter length overcoats, body-hugging gowns in velvet, silk and chiffon, wide-leg trousers in wool, silk and crepe and jackets.
Wu said his collection imparted the look of "cozy beautiful outerwear".
Wu's creations first caught world attention when Michelle Obama wore his one-shouldered white gown during inaugural celebrations in 2009.
During the inaugural ceremony in 2013, she wore another Wu creation, a red chiffon gown, giving him a publicity boost.
"The woman I design for ... is a modern woman," Wu added. "She loves clothes. She loves detail. She loves luxury and she loves texture."
Take a look at his latest fall collection showcased at New York Fashion Week: