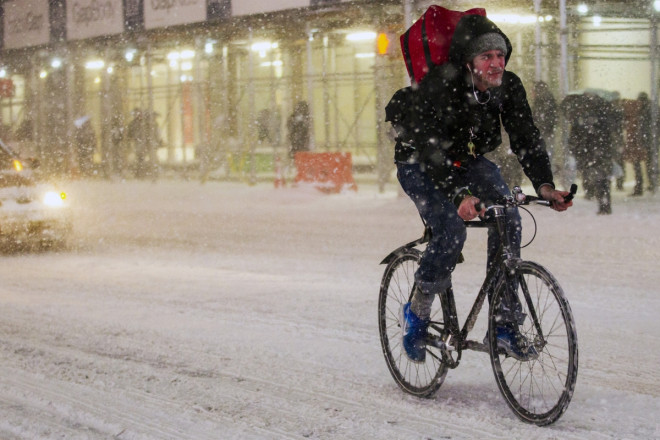 Governor Andrew Cuomo has declared a state of emergency in New York where 2.7 million residents are enduring near blizzard conditions.
The National Weather Service has issued a severe weather alert predicting 10-24 inches of snow by 10 a.m. tomorrow morning (March 13)
Gusts of 30 to 40 miles per hour are expected to develop resulting in near zero visibility.
In a statement Cuomo said: "These areas are expected to continue to receive heavy snow that may accumulate at rates of around one to two inches per hour, which will make it difficult for ploughs to keep some roads clear. New Yorkers in these areas should exercise caution until the worst of the storm has passed."
He added that under a state of emergency, "critical resources that are normally restricted to state use are mobilized to assist local governments and laws and regulations that would otherwise impede their rapid response are suspended."
With slippery roads and visibility reduced because of fog and snowfall, the severe weather conditions will make travel "nearly impossible," the National Weather Service said.
The snow is causing speed restrictions on all the Staten Island crossings and major delays on the Staten Island Expressway. The Staten Island Ferry also is running on a modified schedule. Delays are reported on all Staten Island express and local buses.
A state of emergency has been declared in 14 counties facing severe blizzard warnings namely Allegany, Cattaraugus, Cayuga, Chautauqua, Erie, Genesee, Livingston, Monroe, Niagara, Ontario, Orleans, Oswego, Wayne and Wyoming.