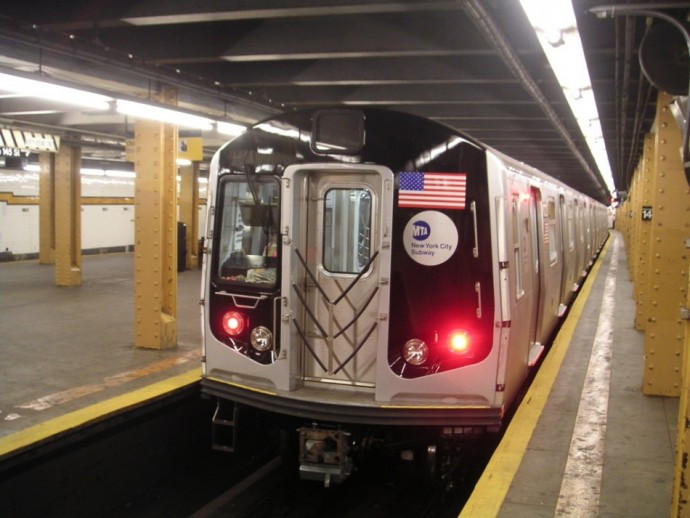 A fresh debate on gender inequality is raging on social media after footage of an all-out brawl between male and female passengers on board a New York subway emerged online.
The dramatic viral clip, entitled 'Man smacks the soul out of girl on the NY Subway' shows the violent aftermath of a heated exchange and a man slapping a woman.
The short video starts with a woman taunting a man about his jacket as other passengers look on and laugh.
"You got a bum-ass eight ball jacket that came out in 1990," she can be heard yelling before advising him to "get his money up".
Following an exchange of insults involving other passengers, the woman is seen striking the man around the head with a high-heeled shoe before he slaps her around the face.
Within seconds another male passenger jumps in, triggering a huge clash involving men and women.
The video, which has been viewed over 3.5 million times, has prompted a strong reaction from the online community.
While some viewers claimed that woman was the instigator and deserved to be slapped back, others insisted that under no circumstances should a man ever hit back.
One respondent wrote: "She didn't hit him really hardly at all, I know it's not nice to take abuse but it's never ok for a man to hit a woman because men are born naturally stronger he could have cause some serious damage if he really wasn't paying attention. She was being a bitch but she didn't deserve that."
However another added: "Women are mistaken if they think that they can go around and hit ANYONE and not get hit back."
Police officials have since confirmed that four people were arrested after the incident.
Jorge Pena, Kevin Gil, and Shanique Campbell were all charged with misdemeanor assault and disorderly conduct, while Danay Howard was charged with felony assault for using a shoe as a weapon in the assault.