Police have arrested a 20-year-old woman accused of abandoning her baby girl at a subway station in New York.
A huge police appeal to help locate the mother of the child was launched after CCTV footage showed a woman pushing her pram, with a baby inside, onto a subway platform from inside the carriage and riding away without it.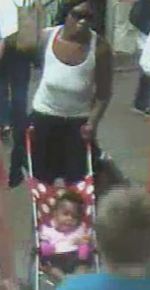 Investigators said one woman stayed with the baby for around 20 minutes at the Columbus Circle station hoping for the mother to return, but notified police when she failed to do so.
The New York Police Department has said a 20-year-old woman is now being questioned over the incident, but no charges have so far been filed.
Eyewitnesses described their shock at seeing the pram being dumped at the busy subway station.
"I just think: Oh, God, there's no way she was in her right mind," Liz Burchfield, 34, told the New York Post.
"What mother could do that to her child or to any child? I've heard horror stories about bad things happening on trains, but this is a first. It's shocking. I never would have expected this."
The baby is believed to be aged between six and seven months old. She was taken to Roosevelt Hospital to be examined, but showed no apparent signs of trauma.
She is currently in the care of the Administration for Children's Services.