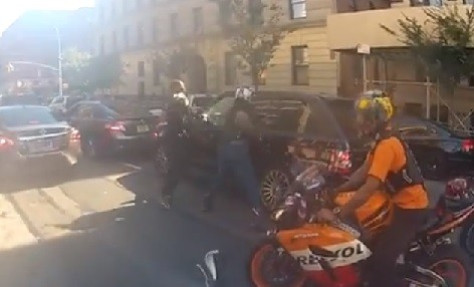 Police in New York have arrested two people in connection with the alleged assault of a Range Rover driver who was chased through the streets by a pack of bikers.
Police are investigating the incident in which 33-year-old Alexian Lien was chased then attacked after being chased by a group of 30 bikers after he struck one of them with his car during a rally in New York.
Dramatic footage of the incident was captured via a headcam worn by a rider. During the six-minute footage, which was uploaded to YouTube, one biker braked in front of the 4x4 before he was bumped by it.
As the bikers surround the vehicle, Lien - who was with his wife and two-year-old daughter - speeds off and appears to hit several bikers. At least one is thrown to the ground.
Police say the driver told them he made off to "avoid an impending assault".
A high-speed chase between the bikers and the Range Rover follows through the streets of New York until the car is caught in traffic. One rider then users his helmet to smash the car window, while another attempts to punch his way through Lien's rear window.
The footageends as more riders approach the vehicle. Lien was taken to hospital with cuts and bruises to his face and body.
Christopher Cruz, 28, has been charged with reckless endangerment, reckless driving, endangering the welfare of a child and menacing. Allen Edwards, 42, has also charged with reckless endangerment, menacing and criminal mischief.
Biker Edwin Mieses, 32, is reported to have been left paralysed and in a coma after he was allegedly struck by Lien as he tried to escape.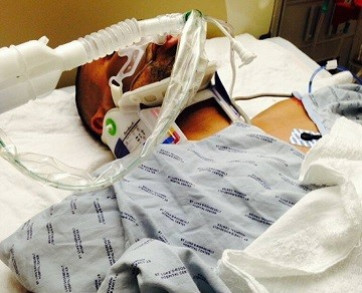 "They crushed his spine - broke it in two different places - so he will be forever paralysed," his wife, Dayana Mejia-Meises, told CBS Boston.
A Facebook page entitled 'Justice For Jay Meezee' - after his aspiring rapper name - has attracted more than 18,000 fans.
Police have not ruled out charging Lien but noted that he was believed to have fled for fear of his own and his family's safety.