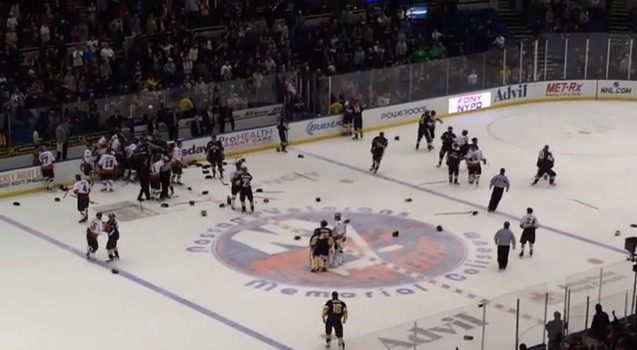 New York firefighters clashed with the city's police force after a charity ice hockey descended into a fiery brawl.
The New York Police Department were taking on the New York Fire Department in the annual match when a huge brawl broke out during the second period.
Helmets, hockey sticks and gloves were strewn across the ice as firefighters and cops traded punches.
The game, which took place at New York's Nassau Coliseum, had been tied at 3-3 when the fisticuffs started. Match officials were forced to delay a restart for 25 minutes while tempers cooled.
The NYPD went on to claim its first victory over the NYFD for six years after the match ended 8-5 to the boys in blue.
Proceeds from the event go to the New York Police and Fire Widows' and Children's Benefit Fund.