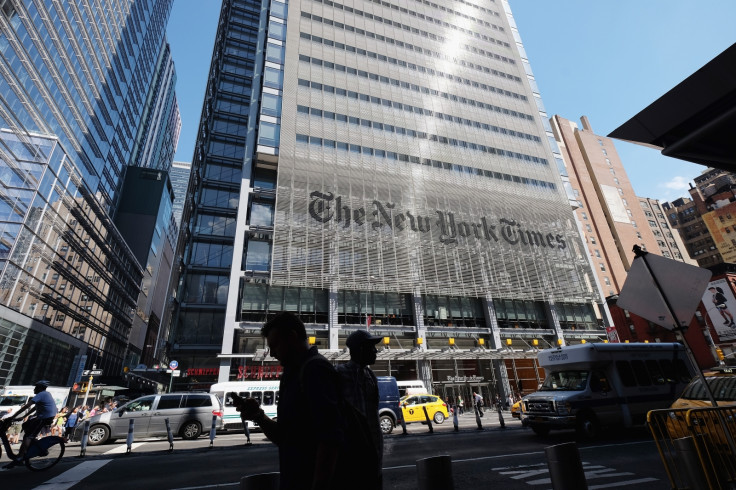 The website of the New York Times faced an outage on Wednesday morning that has been blamed on unspecified technical issues. Multiple users had reportedly been met with a "this site cannot be reached" warning when attempting to view the homepage.
The official New York Times twitter account acknowledged the global outage, however, and continued to post links to articles even after reporting the problems. On 19 October, it tweeted: "The @nytimes website is experiencing technical problems. We're working to get them fixed."
It added the newspaper's various smartphone and tablet applications for iOS and Android were still working. According to isitdownrightnow.com, the website was offline for a number of hours, however, a check reveals it is since been restored.
Many users attempting to access the homepage quickly took to social media to speculate the website was taken down in a hack or distributed-denial-of-service (DDoS)-style cyberattack. "Have you been hacked?" tweeted one user. Another wrote: "Site is down worldwide. Is Trump or the Russians behind a hack?"
The New York Times has consistently been reporting on the cyberattacks against the US political system, including those against major groups such as the Democratic National Committee (DNC). Multiple cybersecurity firms believe Kremlin-linked hackers were involved in the attack.
Additionally, the outage comes just days after presidential candidate Donald Trump made a libel threat to the publication in relation its coverage of sexual assault allegations levelled at the Republican nominee. David McCraw, attorney to the NYT, slammed the claims in a public response.
"Multiple women not mentioned in our article have publicly come forward to report on Mr. Trump's unwanted advances. Nothing in our article has had the slightest effect on the reputation that Mr. Trump, through his own words and actions, has already created for himself," he wrote.
At the time of writing, the New York Times has not commented further about the source of the outage. IBTimes UK will update this post if any more information is revealed.