New Zealand has experienced a 7.8 magnitude earthquake – the biggest quake to hit the country in 85 years. Since it struck - just after midnight (local time) on Monday (14 November 2016) - there have been several aftershocks measuring 5.6 and 5.8. Scientists are currently working out how it happened – and they currently think a number of faults could have been involved.
The epicentre of the earthquake was on the South Island, around 15km north-east of Culverden, striking 23km beneath the surface of the Earth. It caused widespread devastation – images showed cracked roads, stranded cows and landslides – and two peopled died as a result.
However, this was not the most destructive or deadly earthquake to hit New Zealand. In 2011, Christchurch was struck with a 6.3 magnitude quake, killing 185 people. The reason for the far higher death toll was the location – 10km from Christchurch, the biggest city in New Zealand – and its depth, which was just 5km (the shallower the earthquake, the more destructive it tends to be).
Since 1848, the country has experienced 27 earthquakes of a 6 magnitude or above. Nineteen of these were 7 magnitude or above.
The deadliest to ever take place was the 1931 Hawke's Bay earthquake, which killed 256 people. Its epicentre was15km north of Napier, and in the following two weeks there were over 500 aftershocks. It was 7.8 magnitude and levelled almost all the buildings in the central parts of Napier and Hastings.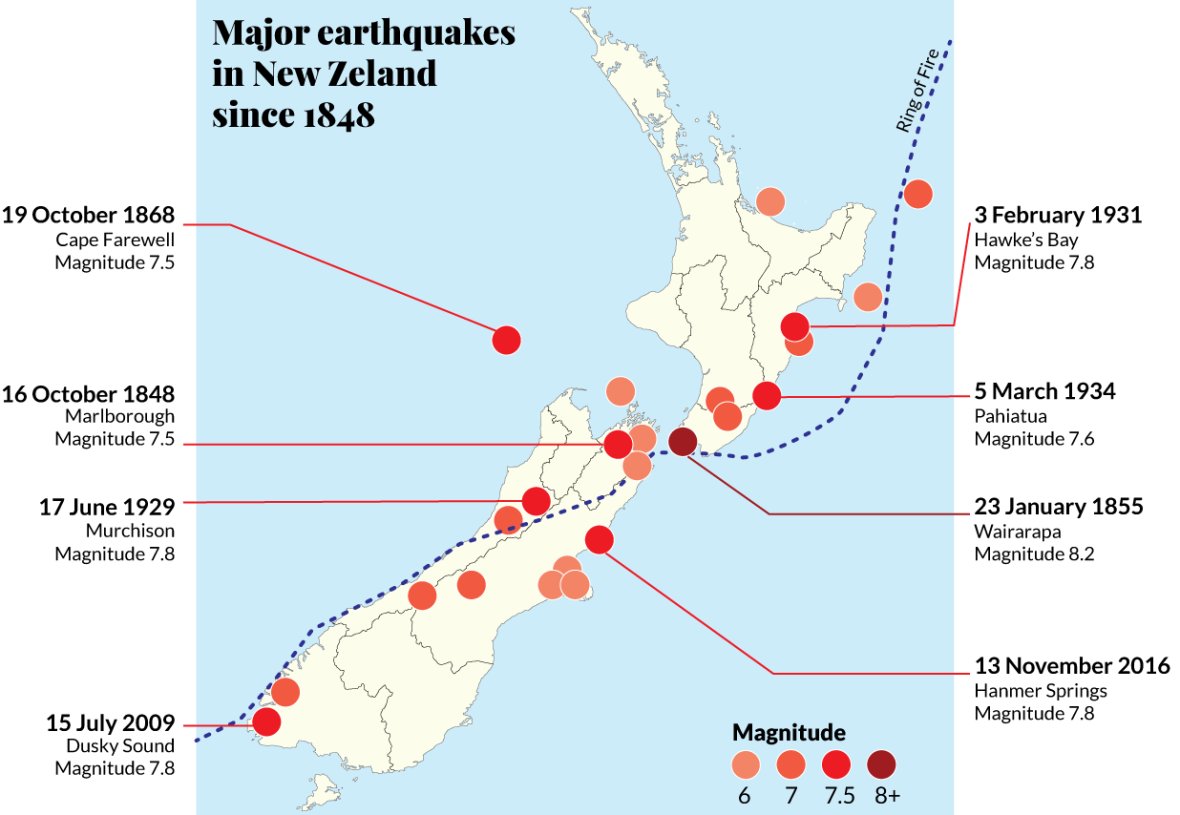 The biggest on record (since European colonisation) took place in 1855, when an 8.2-magnitude earthquake hit the Cook Straight area of the country. The earthquake was caused by movement on a fault line in Palliser Bay – the ground was lifted by around six metres. It generated a 4m-high tsunami that entered Wellington Bay, but there were relatively few casualties, with less than 10 people killed.
The reason that New Zealand experiences so many earthquakes is because it is located at a point where the Australian and Pacific tectonic plates meet. It sits along the Ring of Fire – an area in the Pacific Ocean where many earthquakes and volcanic eruptions take place.
The two plates are constantly grinding against each other, causing stress to build. Eventually too much pressure is built and sections of the fault will move, releasing the stress and causing an earthquake in the process. New Zealand experiences over 15,000 earthquakes every year, 100-150 of which are big enough to be felt.