A 7.8 magnitude earthquake in November at Kaikōura, on New Zealand's South Island, has destroyed all creatures living on the seabed in the Kaikōura Canyon marine nature reserve.
On land the earthquake killed two people and caused massive damage to properties, roads and railways. It caused the sea-floor to leap up by two metres in some locations, exposing stretches of sea snails known as paua along the coast. Further out at sea, it caused a mudslide that destroyed a whole ecosystem.
Marine life in the Kaikōura Canyon was unique. The sheer volume of living organisms in the canyon was estimated to be 100 times greater than any other seabed of its kind.
"There was an extraordinary amount of life living in the bottom of the canyon which we think was a consequence of the very high marine productivity of the whole region," said marine geologist Joshu Mountjoy of the National Institute of Water and Atmospheric Research, who led an expedition to investigate the aftermath of the earthquake on the sea floor.
The expedition was a first look at how the geological faults that ruptured in the earthquake have changed, and the impact on marine life in the region. Mud draping the upper slopes of the canyon shifted in a huge slipping event, Mountjoy said.
Dave Bowden, who led a second exploration of the area, compared the results with a survey carried out in the same region 11 years ago.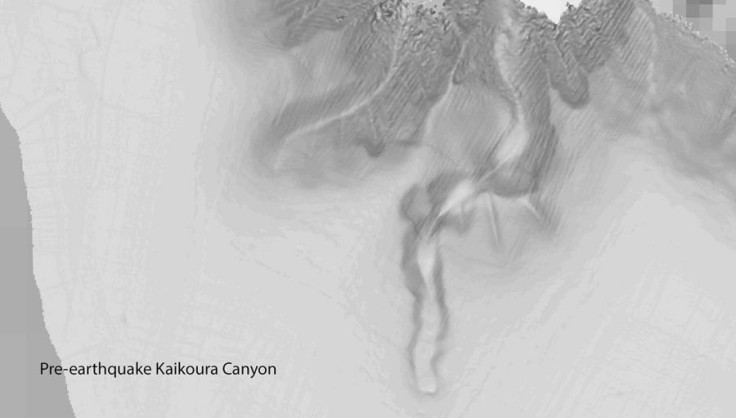 "While fish were still found in the area, this time didn't record evidence of a single organism living on or in the seabed over a stretch of nearly six kilometres. Nothing. It was quite sobering, and a catastrophic event for the ecology of the canyon," said Dave Bowden, who led a second exploration of the area.
The November earthquake also crushed a colony of rare birds, Hutton's Shearwaters, one of only two in the world, according to the National Audubon Society.
The earthquake was reported to have caused hundreds of aftershocks and landslides. Another earthquake, of 5.1 magnitude, struck Kaikōura on 1 February but caused no damage, reported Radio NZ.
New Zealand's Ministry for Primary Industries has awarded NZ$2m (£1.16m, $1.44m) to study the effects of the earthquake on marine life.
"It is clear that this earthquake has impacted on different parts of the marine ecosystem in different ways," said Shelton Harley, fisheries science manager at the ministry.
"There are few people who weren't shocked by the photos of exposed paua beds along the coast, but we know that there are other potential less obvious impacts that we need to understand."