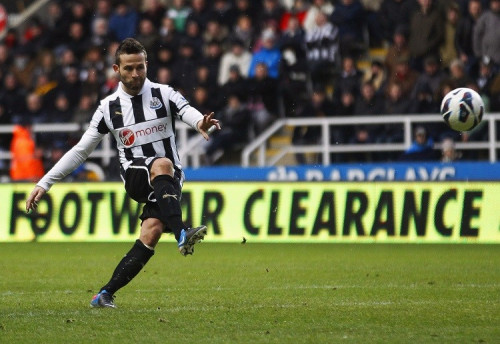 Yohan Cabaye is reportedly set to commit his future to Newscastle United until at least the end of the season despite Paris Saint Germain manager Laurent Blanc admitting they are keen to sign the French star in January.
Although Cabaye missed the first two games of the season as he tried to force Newcastle to sell him to Arsenal, the French international stayed with the Magpies and is enjoying a great campaign at St James Park. He has already scored five goals and grabbed three assist in 18 Premier League appearances, catching the eye of a number of clubs across Europe.
PSG boss Blanc, who was keen on signing Cabaye last summer, has suggested that the wealthy club are going to make a new attempt to sign him during this transfer window.
"Yohan Cabaye? Sometimes issues like this cool down or heat up then they cool down or heat up again," Blanc told to French newspaper Le pariesien.
"Until January 31, no one closes the door. A transfer is a negotiation. The more a player is considered untransferable, the more likely it is that they will change [teams]," Blanc added.
However, Le Parisien claim that Cabaye is set to stay at Newcastle until the end of the season as he wants to continue playing regularly to increase his chances of making next summer's World Cup as a starter.
"I miss the Champions League. I'll finish this season with Newcastle and concentrate on the coming months and then we'll see," said Cabaye recently.
Arsenal have also been heavily linked with Cabaye since last summer when Newcastle rejected a £10m bid from the Gunners. However, manager Arsene Wenger confirmed recently that they were not considering making a new January offer despite having a number of injuries in midfield.
"We don't look for midfielders. Today we did not have [Mesut] Ozil, we did not have [Aaron] Ramsey who stayed at home, but we still had three good midfielders and I still had Arteta on the bench so there is no real need in there," Wenger said.