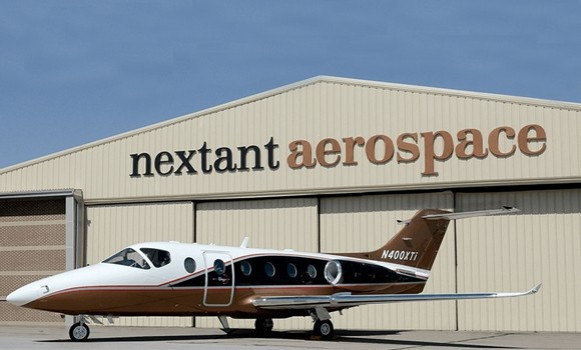 US-based aircraft remanufacturer Nextant Aerospace is looking to capitalise on the recovery in re-manufactured business jet market as orders for high-cost jets decline due to corporate budget cuts and depletion in the wealth of high net-worth individuals.
At the Dubai Airshow, the Ohio-based company presented the Nextant 400XTi, a low-cost aircraft for business people that it called the world's first "re-manufactured" business jet. The company participated in the 13th biennial Dubai Airshow between 17-21 November for the first time.
The Nextant 400XTi is a completely rebuilt Beechjet 400A/XP with Williams FJ44-3AP engines and the Rockwell Collins Pro Line 21 integrated avionics suite, according to the company's website.
The aircraft has major aerodynamic enhancements and an improved engine mounting configuration with redesigned nacelles and pylons. It is delivered with a two-year full-aircraft warranty and after-sales support provided by a global network of owned and authorised service centres, according to the company.
Nextant has sold 36 of its so-called "poor man's private jet" for about $5m (£3m, €3.7m). This compares to smallest business jets of Bombardier and Gulfstream, which are priced at $8.1m and $15.7m, respectively.
Aerospace Re-Manufacturing
Re-manufacturing is the process by which a previously sold, worn, or non-functional product is brought back to a "like-new" or "better-than-new" condition. It is currently responsible for a growing share of the manufacturing sector.
Aerospace is the largest re-manufacturing sector with business worth $13bn per year, according to a 2012 US trade report.
Nextant takes small, near-retirement business jets, dismantles them and resells them with enhanced features.
The lower corporate spending in line with the global economic crisis has affected the demand for new business jets which are priced heavily. Re-manufacturers of aircraft are benefiting from the situation, according to Nextant.
"There's about a year-and-a-half inventory backlog (of older jets) on the market. Until that inventory starts selling off, new aircraft sale will not rebound," Nextant's president Sean McGeough told Reuters in an interview.
Nextant is preparing to bring another re-manufactured model in the market - the Nextant G90XT. It is based on the King Air C90 series and features GE H80 engines. The company said the new model will have improved performance and lower costs at just half the purchase price.