NextEV: Tesla was the car version 2.0, but we will be version 3.0
Chinese electric car startup Next EV claims to be taking cars to a whole new level.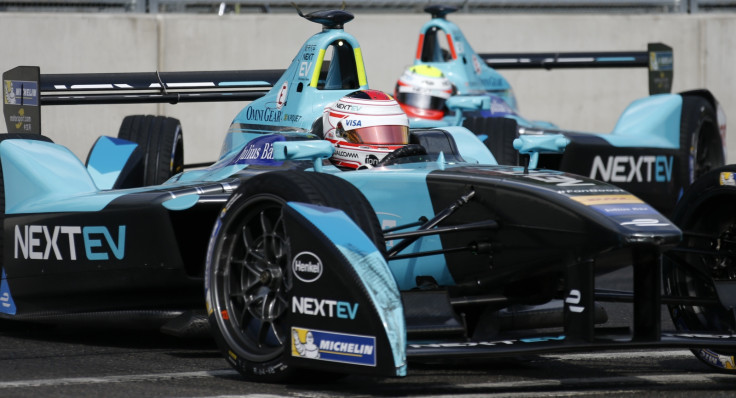 If the traditional car industry is version 1.0 and Tesla is 2.0, Chinese electric car company NextEV wants to be seen as 3.0. This is the view of company co-president and automotive and motor racing veteran Martin Leach.
Speaking exclusively to IBTimes UK, Leach revealed the big plans he was for NextEV, which is involved with the TCR Formula E team, champions of the inaugural 2014/15 season, and is set to reveal an electric supercar later in 2016.
A previously unknown electric car company with Chinese backing and plans to show off a supercar might sound familiar; Faraday Future wowed the crowds in early 2016 with a 1,000-horsepower, Batmobile-like hypercar which was fully electric and entirely unlikely to ever go on sale. But NextEV has more grounded plans for its halo product.
"As a new car company we have to establish our credibility and these are the two platforms [a supercar and a Formula E team] that we have chosen to do that with," Leach said. "Our strategy is quite different to Faraday Future because as you get to understand NextEV, better you will begin to realise we are very much a value driven organisation...we're not really a car company."
Echoing Faraday Future, as well as the visions from BMW, Ford and many others, Leach says NextEV plans to "do things that help people's automotive lifestyles." These plans will be revealed alongside the supercar later in 2016, and if they are anything like those hinted at by the rest of the industry, then the business model will be less about selling cars and more about offering up a subscription service giving customers access to different vehicles at different times.
If Tesla is the car 2.0, then we are 3.0
Asked what he think about Tesla and Elon Musk, Leach said they have done a "brilliant job" and should be congratulated for creating products people want, but added: "I do think, though, that if normal car companies were the internet at 1.0, then Tesla is probably 2.0 and does some really good things like over-the-air software updates, but what we're trying to be is 3.0." Leach agrees when I suggest his company will represent a complete reboot for the car industry.
As for the supercar itself, it will be electric and sold in small number. Crucially, and unlike the Faraday Future concept, it will be a fully working vehicle when it launches later in 2016. Leach explained: "When we launch the car it will not be a concept. It's a car, it will be engineered and validated and you will see it driving at some point shortly after the introduction; certain lucky people will be able to drive it."
As for how many people that will be, NextEV is not saying. Production numbers will of course be small, perhaps in the 300-500 range, but Leach is wisely steering well clear of existing supercar companies. "We're not going into competition with Ferrari. That's not our intention and it would be massively arrogant to even think we could."
A few surprises
But what NextEV is doing, Leach says, is "a car which will be able to hold its own against the best of today's competition. We want it to show what we can do. For sure, it will have a few surprises, it will not just be another cookie-cutter supercar."
Speaking about the car industry more generally, and to pave the way for NextEV's 'normal' cars of the future, Leach said: "We do want people to own their cars, but we want to make it fun again. We want to take out the pain points that people complain to us about, about the ownership experience today. Not just electric vehicles, but generally."
Europe and the UK might consider themselves the centre of the automotive world, but China is now the largest market by far, growing from one million vehicle sales annually in 2000, to over 22 million now.
Finally, we spoke about autonomy, and while Leach fully expects self-driving technology develop and become a part of daily life, he understands that not everyone wants a robo-taxi to ferry them from A to B. "It can solve a lot of problems that we have today with society...[but] we want to support our people with a drivable lifestyle. A lot of people still want to drive their cars. It's not all of one thing at the expense of the other; people still want to drive cars and have fun with that."
© Copyright IBTimes 2023. All rights reserved.