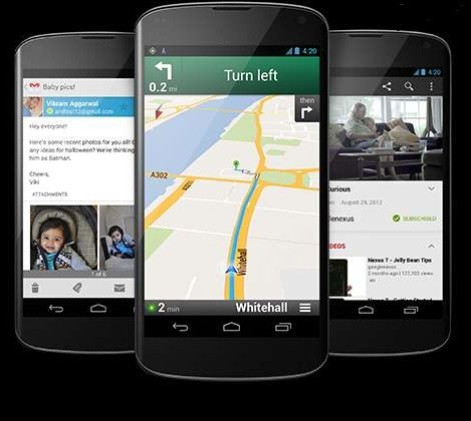 The Nexus 4 is back on sale in Google's Play Store, in the UK, effective 4 December at 5 pm GMT. The 8GB Nexus 4 costs £239 and the 16GB £279. Earlier information suggested delivery schedules and dates depended on availability of each particular model. However, the Internet search giant has now placed a four to five week waitlist for both models. In addition, Google is reportedly limiting sales to one unit per person in order to avoid selling out again.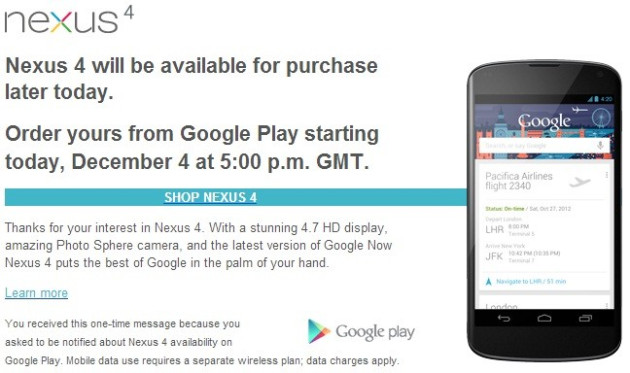 The Nexus 4 went on sale with the Nexus 10 and the 3G version of the Nexus 7, on 13 November. The stock sold out in less than half an hour and surfaced on eBay UK, with price deals. At the time of publication of this report, an unlocked black Nexus 4 (16GB) was available for £420. Meanwhile, also at time of publication, online UK retailer Carphone Warehouse has the 16GB SIM-free Nexus 4 at £389.95 and this is available with contracts for O2, Orange, Three, T-Mobile and Vodafone, among others.
The LG-made Google Nexus 4 features a 4.7in True HD IPS Plus display with a marginally higher pixel density - 318 pixels per inch (ppi) - than the Samsung Galaxy S3 but not quite as much as the Apple iPhone 5. The smartphone has an eight megapixel rear-facing camera with a new feature called Photo Sphere and a 1.3 megapixel front-facing camera. The device is powered by Qualcomm's Snapdragon S4 Pro chip, featuring a quad-core processor clocked at 1.5GHz and paired with an Adreno 320 graphics unit. It has 2GB of RAM. The Nexus 4 is Google's first smartphone to run the Android 4.2 operating system; Android 4.2 is the latest major update to the Jelly Bean series.