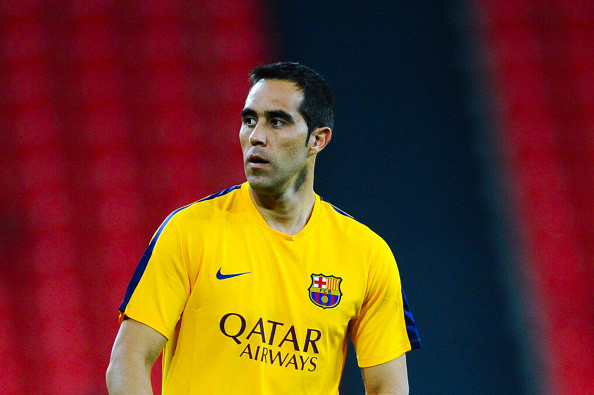 Barcelona have been warned about Pep Guardiola's interest in making Claudio Bravo his first signing as Manchester City manager. Spanish publication AS suggests the Premier League giants are happy to meet the player's €40m (£30.3m, $43.6m) release clause, while the 32-year-old goalkeeper could be tempted by the chance to have a period in English football.
The Chile international moved to the Nou Camp in the summer of 2014 alongside Marc-Andre Ter Stegen as part of the goalkeeping overhaul that followed the decision of legend Victor Valdes to leave the club – with his then understudy Jose Manuel Pinto being released as well.
But AS claims Barcelona's interest in the keeper stretched back before that, as Guardiola had been an admirer of his ability to play with the ball at his feet – a key component of the trademark tiki-taka style.
AS says Barcelona are well aware of the possibilities of him moving to Manchester City, following a season and a half where he has impressed at the Catalan giants, keeping the highly rated Ter Stegen out of the team for league matches.
While reports in England have linked Guardiola with the likes of Neymar and Lionel Messi, AS says the Barcelona board are much more concerned with the prospect of him signing Bravo instead – similar to his signing of Thiago Alcantara when he moved to Bayern Munich.
Bravo is believed to be interested in Manchester City as it would present his last chance to play in the Premier League and also give him the opportunity to win the Champions League, with Ter Stegen serving as Barca's custodian in Europe.
AS notes that the £30.3m release clause would be "pocket change for a club like Manchester City who will be handing Guardiola the keys to the war chest this summer".