The NHS is said to be on "black alert" as the winter crisis escalates and people wait up to 12 hours in A&E.
Today (4 January) it emerged that 4,700 patients were stuck in ambulances for over an hour because A&E departments had run out of space, Evening Standard reported.
In addition, in order to cater for the surge in health care required for flu, increased breathing problems and other impacts of the cold weather, numerous hospitals have been told to cancel non-urgent surgeries and appointments, The Guardian reported.
Meanwhile, Jeremy Hunt called the move "planned, methodical, thoughtful" and apologised, adding "It's absolutely not what I want".
With news circulating about its shortcomings in treating patients, NHS staff - from doctors to A&E staff - took to Twitter to lament the condition of the organisation and the toughest elements of their jobs. The hashtag #NHSCrisis began trending with numerous employees sharing their stories and questioning why Theresa May was doing nothing.
As one doctor put it: "Two years ago I'd have point blank refused to examine a corridor patient until they were in a cubicle. Now on days like this it's unavoidable, I'm ashamed to say #NHSCrisis."
Another said: "It's 0400 and I've been lying awake for the last hour worrying about how we manage the department when my shift starts in 12 hours time. The last time the job felt so impossible for me was Mid-Staffs. This can feel like a personal failure to staff; it's not, it's a system fail."
The Mid-Staffs was a health care scandal that spanned 50 months between January 2005 and March 2009 at Stafford hospital. It was suggested that between 400 and 1,200 patients died as a result of poor care during this time as a result of decision-making and cost-cutting.
A Department of Health spokesperson told IBTimes UK: "We know the NHS is extremely busy — as it always is at this time of year — but hardworking staff are taking the necessary steps to make sure patients continue to get seen as quickly as possible. Our NHS was recently ranked as the best and safest healthcare system in the world, and the Government is supporting it this winter with an additional £437m as well as £1bn extra social care funding this year."
IBTimes UK spoke to three people working in the NHS about what it's like working while it's in crisis.
A nurse asked to be called Dan said she overcame a lot of barriers to work for the NHS. She began her training as a mature student but it was the thing that made her happiest - caring for people is where she found joy.
In contrast, being so passionate about her work has meant that NHS struggles have really hit her.
"Everyday is a crisis, it's just that that crisis is in complete meltdown. I just find it so upsetting - it's heartbreaking. When I read last night that patients are having their elective operations and outpatients appointments cancelled, I just cried because it's not fair; it doesn't have to be like this."
She feels the weight of the crisis on her constantly even though the only thing she can do is be the best nurse she can be.
"Everyday I feel like I'm a firefighter and I have a huge fire but can't reach the bits further back, I can only tackle a tiny bit. We have no staff, we have no resources and we have a nursing crisis of 40,000 vacancy rates. People are broken by what has happened."
"The government just says everything is okay but it isn't, they can't carry on saying it is because it isn't. They've known about this all year and refused to do anything about it."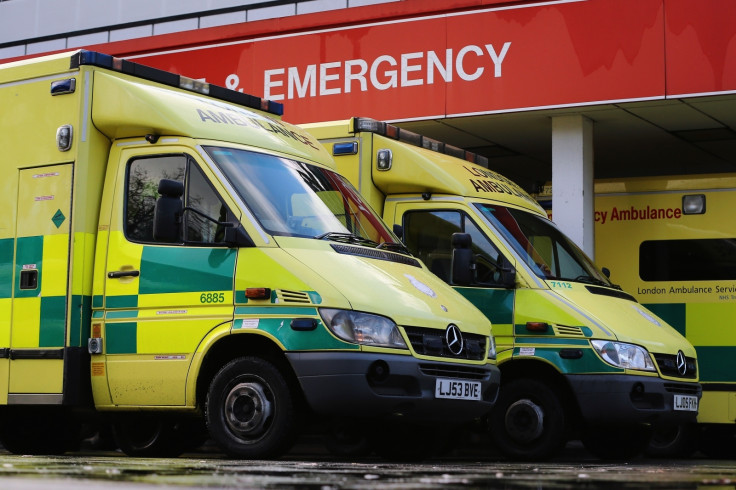 Mike Travis is a nurse in Liverpool's children's hospital and has worked for the NHS for 38 years. When it comes to the 'NHS crisis' he told IBTimes UK it certainly hasn't come out of nowhere.
"We knew we didn't have enough nurses, we knew we didn't have enough radiographers, we knew that the changes for doctors would produce shortages and we knew that they wouldn't discuss this when they were in the middle of a General Election. The idea that the crisis has suddenly sprung up on us is not true - we've known for a long time."
Whilst things naturally change over time, the thing he finds particularly shocking about the current climate is the effect on younger nurses' livelihoods and futures.
"A lot [of them] are simply a paycheck away from financial ruin. I know a lot of my personal friends who I'm working with are living off their credit cards and, at the end of the month, they're taking on big loans to get a mortgage as it's cheaper than constantly renting. Their futures are being undermined because they don't get any benefits of working for the NHS - they can't afford to get on the pension scheme. It's just layers and layers of stress."
In spite of all of this he says, "You know, I still think nursing is a great job but how long can you stay at a great job when we are constantly being underfunded, I don't know."
An anonymous source who worked in an emergency department told IBTimes UK that her department prepared for the increased demands of winter.
"Beds have been so tight or non-existent that when a bed does come up, the pressure to get that patient moved from the top has been to do it yesterday. Staff have gone without breaks just to keep patients safe.
"Overall the team are coping, but are exhausted at the ends of their shifts and it's not sustainable. If something doesn't change, staff will leave for an easier life and job satisfaction in the end. Staff have been leaving on their knees; it's only the teamwork that has kept us going."
The ongoing conclusion from everyone within the NHS is that it can't keep going on like this.