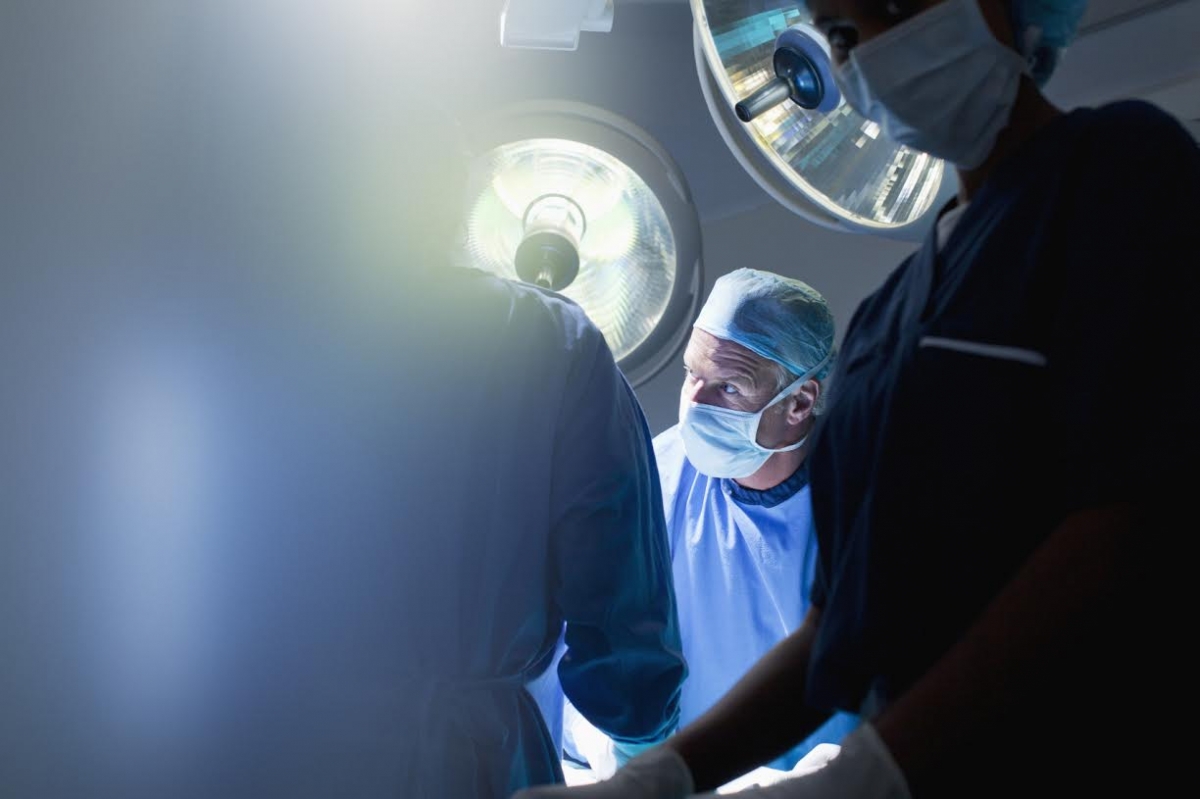 Accidental testicle removal, wrong body parts being operated on and scalpels left inside patients are among more than 1,000 'never' events that happened in hospitals in England over the past four years.
Instruments including scalpels, surgical gloves, hypodermic needles and pins were left inside patients following medical procedures, while there were also cases recorded in which a man had his testicle removed when only a cyst was supposed to be removed from the area, and a woman had her fallopian tubes removed instead of her appendix.
Figures from NHS England for 2012-16 show 1180 'never events' over the four year period, with the majority concerning foreign objects left in people's bodies after medical procedures and wrong-site surgery, which the Patients Association said was utter carelessness that 'let patients down'.
The 306 'never' events recorded from 1 April 2014 to 31 March 2015

Wrong site surgery 124

Retained foreign object post procedure 102

Wrong implant/ prosthesis 40

Inappropriate administration of daily oral methotrexate 11

Misplaced naso or oro gastric tubes 10

Misidentification of patients 4

Wrong gas administered 2

Maladministration of a potassium containing solution 2

Escape of a transferred prisoner 2

Maladministration of insulin 2

Air embolism 2

Transfusion of ABO - incompatible blood components 2

Wrong route administration of oral / enteral treatment 1

Wrongly prepared high risk injectable medication 1

Wrong route administration of chemotherapy 1
Katherine Murphy, Chief Executive of the Patients Association said: "It is a disgrace that incidents which are supposed 'never' to happen are still so prevalent. With all the systems and procedures that are in place within the NHS, how are such basic, avoidable mistakes still happening?
"There is clearly a lack of learning across the NHS, or even within individual Trusts. These 1,100 patients have been very badly let down by poor processes and utter carelessness. It is especially unforgivable to operate on the wrong organ, and many such mistakes can never be rectified, leaving patients harmed for life."
Between April 2014 and March 2015, there were 306 such events, including 124 surgeries on the wrong site and 102 cases of foreign objects 'retained' post-procedure.
The wrong-site surgeries included a kidney being removed instead of an ovary, the wrong leg operated on, a lung biopsy performed on the wrong side, while incidents such as patients being transfused with the wrong type of blood were also recorded.
Breakdown of the 124 wrong site surgeries from 1 April 2014 to 31 March 2015

Wrong site surgery 124

Additional procedure undertaken that was not required 1

Appendicitis diagnosed, fallopian tube removed instead of appendix (salpingitis found) 1

Biopsy of wrong skin lesion 1

Carpal Tunnel procedure undertaken instead of De Quervains procedure 1

Incision to wrong side of head 1

Incorrect procedure as biopsy mixed up with another specimen at the time of the procedure 1

Kidney removed instead of ovary - distorted anatomy and inconclusive pre op scans 1

Liver biopsied instead of pancreas 1

Ovary/ovaries removed when undertaking hysterectomy when they should have been conserved 2

Testicle removed instead of epididymal cyst on testicle 1

Wrong area of breast 3

Wrong area of ear 1

Wrong ear 1

Wrong eye 8

Wrong finger 2

Wrong finger incision 4

Wrong hernia repair 1

Wrong hip 1

Wrong incision to remove tooth 1

Wrong knee 1

Wrong leg 1

Wrong margins of breast lump excised 1

Wrong procedure - endoscopy instead of flexible sigmoidoscopy 1

Wrong procedure - femoral line 1

Wrong procedure - sigmoidoscopy instead of cystoscopy 1

Wrong procedure - wrong patient sent for 1

Wrong shoulder 1

Wrong side angiogram 3

Wrong side angioplasty incision 1

Wrong side chest drain 3

Wrong side chronic pain intervention 1

Wrong side iliac artery occlusion procedure 1

Wrong side JJ stent 1

Wrong side lithotripsy 1

Wrong side lung biopsy 1

Wrong side nail bed 1

Wrong side nephrostomy 1

Wrong side of scalp 1

Wrong side of thyroid gland removed 1

Wrong side pleural biopsy 1

Wrong side spinal root injection 3

Wrong side tonsillar cyst removed 1

Wrong side ureteric stent 1

Wrong site angioplasty 1

Wrong skin lesion removed 12

Wrong skin tag removed 2

Wrong spinal level 12

Wrong toes 5

Wrong tooth incision 1

Wrong tooth/ teeth removed 27

Wrong vulval lesion removed 1
A spokesperson for NHS England said: "One never event is too many and we mustn't underestimate the effect on the patients concerned. However there are 4.6 million hospital admissions that lead to surgical care each year and, despite stringent measures put in place , on rare occasions, these incidents do occur.
"To better understand the reasons why, in 2013 we commissioned a taskforce to investigate, leading to a new set of national standards being published last year specifically to support doctors, nurses and hospitals to prevent these mistakes. Any organisation that reports a serious incident is also expected to conduct its own investigation so it can learn and take action to prevent similar incidents from being repeated."
Estimated figures from April to December 2015 show 254 'never' events already recorded, with data not yet available for January and February of this year.
Meanwhile, there were 306 'never' events in 2014-15, 338 in 2013-24 and 326 in 2012-23, with the majority being foreign objects left in patients with the exception of 2014-15, when surgery performed on the wrong site was the most frequent never event.