Nicholas Anelka's 'Quenelle' Goal Celebration Not Anti-Semitic, Says French Jewish Leader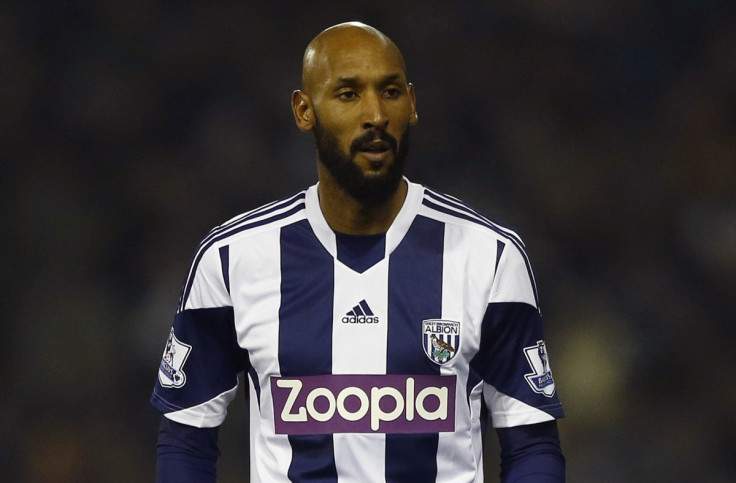 As part of the ongoing controversy surrounding Nicolas Anelka's use of the "quenelle", a leading figure in the French Jewish community has claimed the gesture is not anti-Semitic.
The West Bromwich Albion striker has announced he will contest the charge against him by the Football Association following his controversial goal celebration against West Ham United in December.
If found guilty, he faces a potential five-match ban for making the "abusive" gesture. Many believe the quenelle is an inverted Nazi salute and has anti-Semitic connotations.
Anelka has denied the quenelle is offensive and is instead anti-establishment. He says the gesture was meant as a sign of support for his French comedian friend, Dieudonne M'Bala M'Bala, who created the quenelle. M'Bala M'Bala has himself been prosecuted for anti-Semitism in the past.
As part of his defence of the goal celebration, Anelka tweeted a video with the message "nothing to add" containing a short interview with Roger Cukierman, head of Jewish organisation Representative Council of French Jewish Institutions (CRIF) and vice-president of the World Jewish Congress.
Speaking to French daily newspaper Le Figaro, Cukierman argues that making the quenelle gesture is only anti-Semitic when performed at a Jewish site and the charges against Anelka are "exaggerated".
Cukierman said: "It seems a bit severe to me because it seems to me that this gesture only has an anti-Semitic connation if the gesture is made in front of a synagogue or a memorial to the Holocaust.
"When it's made in a place which is not specifically Jewish it seems to me that it's a slightly anarchic gesture of revolt against the establishment, which doesn't deserve severe sanctions."
Anelka also defended his gesture with a statement on his official Facebook page. He said: "The British football federation has hired an expert to rule on the meaning of my 'quenelle'. He has concluded that my gesture has an anti-Semitic connotation that has led to my indictment by the FA.
"It would have been legitimate that this expert was French, living in France and having an exact knowledge of my gesture. What better expert than Mr Cukierman, president of the CRIF who very clearly said that my quenelle could not be considerate as anti-Semitic.
"He has also explained precisely and in which moment this gesture could have that [anti-Semitic] connotation.
"So I demand to the British Federation to lift the charges alleged against me. And I repeat, I'm not anti-Semite nor racist."
Fellow footballer Romelu Lukaku has also come out publicy in support of Anelka. The Everton striker, who is on loan from Chelsea, said he should not be banned as he is a player who "people want to see play on the pitch".
However, Mark Gardner of the Community Security Trust, which advises the Jewish community on security and anti-Semitism, believes the FA should "throw the book" at Anelka over his actions.
He said: "Anelka has introduced a very ugly phenomenon into British football.
"Anelka's action risks the 'quenelle' being taken up by actual anti-Semites and used against British Jews as it has been in France and elsewhere."
© Copyright IBTimes 2023. All rights reserved.