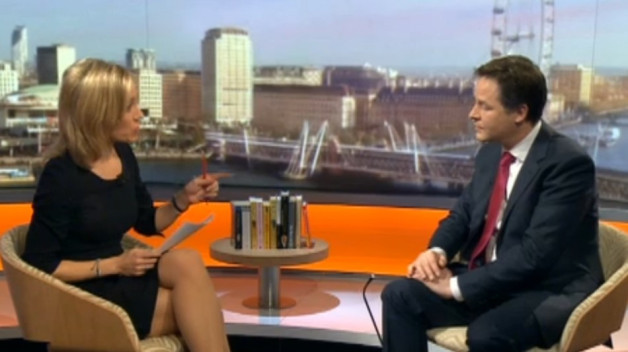 Britain's deputy prime minister Nick Clegg has reaffirmed his backing for the government's austerity programme in the face of sharp criticism from economists after last week's dismal GDP figures showed Britain's economy shrank in the last quarter.
Clegg insisted the governing coalition would not deviate from its plan to slash spending, despite acknowledging that capital spending projects had been cut too fast in the days after the new government came to power.
Speaking to the BBC's Sophie Raworth, Clegg said: "We are absolutely not going to change course in paying off one of the world's largest deficits. Why? Because if you just shrug your shoulders and say, I'm sorry it's too complicated, we end up asking our children and grandchildren to pay off this generation's debts."
He said the government would seek to incentivise private investment while channelling savings to the private sector, but ruled out borrowing to fund investment, and blamed Labour for the fall in investment since the coalition came to power.
"My message is that you can be very tough on the deficit, as we have been, we've reduced it by a quarter, and you can be restlessly creative about how, within those strictures, within those limits, you do things to make the economy grow."
He said the deficit had been reduced by a quarter since the coalition came to power, while employment was increasing, but vowed borrowing would not rise to fund investment.
"We have systematically found ways of finding new capital," he said. "But there will be no return to the bad old days of borrowing your way out of a crisis."
Figures released last week showed the economy had contracted by 0.3 per cent at her end of last year, raising the likelihood of an unprecedented "triple-dip" recession.
The International Monetary Fund's chief economist Olivier Blanchard warned Chancellor George Osborne to ease up on spending cuts. "We said that if things look bad at the beginning of 2013 - which they do - then there should be a reassessment of fiscal policy," said Blanchard. "From the beginning we have always emphasised that fiscal consolidation should be slow and steady. We've never been passionate about austerity."
Jim O'Neill, chairman of Goldman Sachs Asset Management, added his voice to the criticism, saying the economic data showed fiscal policy had been "tightened too much" and that the Chancellor was "on the wrong path".
Even the Conservative Mayor of London, Boris Johnson, warned that the mood music of austerity was playing badly for his party. "The hair shirt stuff, the Stafford Cripps agenda - that is not the way to get Britain motoring again," he said.
Osborne's critics say his preoccupation with spending cuts is ideological, and his insistence on shrinking the state at the expense of economic growth and higher employment will cause unnecessary pain to the majority, particularly those on low incomes.
However, Clegg hit back, telling Raworth: "These are the same voices who then complain when they discover borrowing went up last December compared to the year before. Why is that? Because we weren't being dogmatic, we allowed for the fact that as tax receipts go down, and welfare payments go up, we borrowed a bit more to make up the difference."
He added: "We're being tough but pragmatic, resolute but innovative."
However, the deputy prime minister said he differed sharply with Prime Minister David Cameron over his decision to hold a referendum after seeking to renegotiate Britain's relationship with the EU.
Clegg said: "It's the Conservatives who have decided to completely reinvent the wheel, and tie the country in knots by redesigning and fiddling around with the detailed terms before the British people even get a referendum."
Insisting his policy on holding a referendum had not changed, an irritable Clegg told Raworth: "Don't rewrite history!"
But he refused to comment on rumours that he planned to send his 11-year-old son to a private school, after telling listeners to his weekly LBC phone-in show: "It's not about whether it's private or public ... it can be either."
Clegg's change of heart comes despite describing the state-private divide in education in a speech last year as "corrosive for our society and damaging to our economy". The headmaster of Clegg's local state school, the Ark Putney academy, formerly Elliott school, said Clegg had not been to visit, according to the Observer.