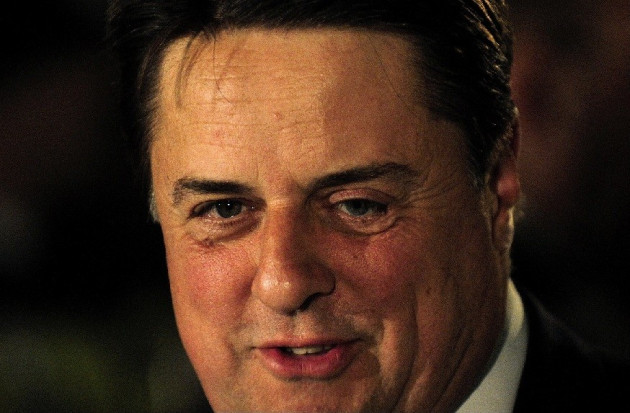 BNP leader Nick Griffin has hastily deleted a tweet which revealed details of a gay couple's home address, after police announced they were probing the far-right leader.
European Parliament member Griffin published details of where to find Michael Black and John Morgan to his 16,687 followers - hours after the Cambridgeshire couple won a court battle for discrimination against a B&B owner who refused them lodgings.
Griffin's account was initially suspended by Twitter, but was live again on Friday morning. It appears Griffin opted to remove the tweets from his profile during the hiatus, after heavy criticism on the micro-blogging site.
Below are the messages he posted on Thursday.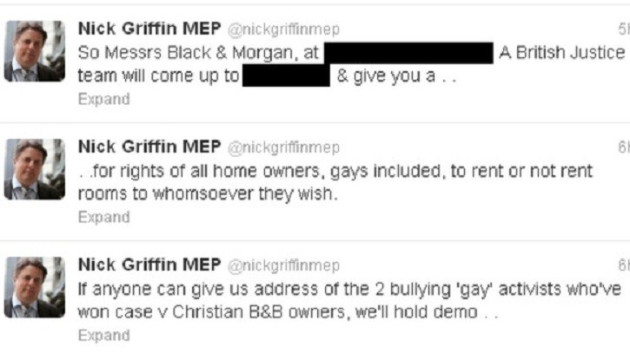 But the following day the relevant message were gone.

Cambridgeshire Police confirmed it was looking into the case.
"We have received a number of calls in relation to these tweets and are looking into the complaints we have received," said a spokeswoman.
"Officers will also visit the men mentioned in the tweet as part of our enquiries."
Gay rights group Stonewall urged police to take action against the leader of the Britain's highest profile far-right party.
Hope Not Hate contributor Nick Lowles said Griffin should be held accountable should Black and Morgan come under attack.
"I call on Nick Griffin to be legally accountable to any hate crime that Michael Black and John Morgan face in light of his twitter comments," he wrote.
'Rotten, anti-Christian system'
Griffin insisted he was unconcerned by reports police were mulling whether to bring charges against him.
"Why should I be? If they're daft enough to persecute me for making a stand against the avalanche of leftist persecution of ordinary folk and their traditional freedoms, then the rotten, anti-Christian system they defend will be the loser," Griffin told ITV.
On Friday morning, Griffin lashed out at rights campaigner Peter Tatchell, who fiercely criticised the BNP leader for publishing the address.
If you get burgled & police don't want to know, just tweet something Peter Tatchell can claim to be offended . .
— Nick Griffin MEP (@nickgriffinmep) October 19, 2012
..by. Plod will be round in minutes! — Nick Griffin MEP (@nickgriffinmep) October 19, 2012