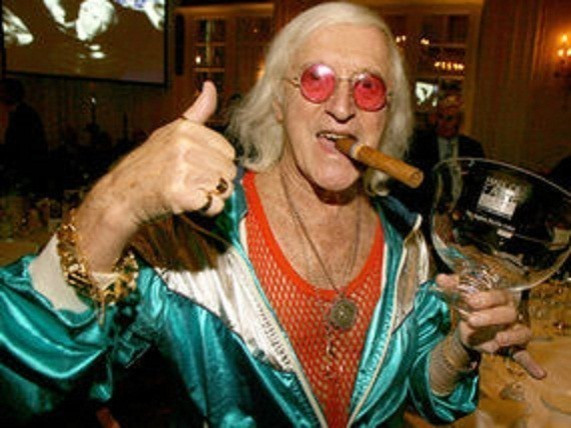 The man briefed to investigate why BBC Newsnight dropped an investigation into Jimmy Savile has accused the BBC of a "complete inability to deal with the events that followed".
Nick Pollard, former editor of SkyNews, said in his report that concerns had been raised that the the corporation had been involved in a cover-up of Savile's abuse of young people while working there.
But Pollard's report found that the Newsnight news item was not dropped to protect the scheduled Savile tribute programmes on the BBC.
However, it did find that staff members were aware off Savile's "darker side" and that management was told about it in emails.
Pollard said there was some knowledge of Savile's paedophilia in the Vision department, which referred to the DJ's "dark side".
George Entwistle, who at the time of Savile's death was BBC's controller of knowledge commissioning, was sent two emails about tribute programmes for the presenter at the time of his death.
Nick Vaughan-Barratt, BBC executive producer, wrote: "We decided that the dark side to Jim (I worked with him for 10 years) would make it impossible to make an honest film that could be shown close to death. But maybe one could be made for later."
Missed opportunity

In a later email, Jan Younghusband, BBC commissioning editor, wrote: "I gather we didn't prepare the obit because of the darker side of the story. So something celebrating a particular part of his TV career is probably better than the [life] story as there are aspects of this which are hard to tell."
The review notes that neither Entwistle nor BBC controller Danny Cohen (who was copied into the emails) could recall the "darker side" comments made.
Pollard said: "In one sense this looks like a missed opportunity for further questions to be asked. As both Mr Entwistle and Mr Cohen say they did not read the emails, the question is somewhat academic.
"I do not regard that email as a 'smoking gun' but it indicates to me that there was knowledge, not just rumour, within BBC Vision about the unsavoury side of Savile's character at the time the Christmas tribute programmes were planned.
"If either email had been read it was at least possible that further questions would have followed."
In total, the review looked at 10,000 emails and other documents, took into account 40 lengthy personal statements and 19 interviews.
Pollard said he could not understand Newsnight editor Peter Rippon's decision to not run the item.
BBC management and culture must change
"Mr Rippon's decision to drop the story was seriously flawed; he made a bad mistake in not examining the evidence properly.
"I have seen the full uncut interview with [one of the victims] which lasts just under an hour. To me she seemed credible and compelling.
"The Newsnight investigators obviously thought so too. But the crucial opinion would have been Mr Rippon's. I cannot understand why he did not give himself that chance."
In response to the report, the BBC said it would make a number of changes to editorial and management processes, including strengthened guidance on what material should be handed to the police.
It also plans to review the Editor's Blog, so all entries adhere to its editorial guidelines.
In the longer term, the BBC said: "It is clear that aspects of the management and culture within BBC News must change.
"We will develop a plan to address the wider questions about how we work, communicate and make decisions, in preparation for the new Director-General's arrival.
"Above all else, we must keep the victims of Savile's abuse at the forefront of our minds. Our efforts in this regard will be informed by Dame Janet Smith's review of the culture and practices of the BBC during the time Savile worked here."
Helen Boaden, who stepped aside from her role as BBC director of news, will return to her post on Friday.