First Minister Nicola Sturgeon has said she will work to "preserve" Scotland's relationship with the European Union to retain access to the single market.
She said she would work cross-party to "avert a hard Brexit" and said the UK's exit from the Union did not mean Scotland also had to be excluded from a trade agreement.
The SNP leader also said she would push for a Commons vote on the terms of Brexit negotiations.
"We will publish proposals that would allow Scotland to stay in the single market, which would preserve our relationship with the European Union. Now I don't suggest for a second that would be straightforward or without challenges but in the unprecedented circumstances we're in right now I think there's an obligation on all of us to try to work out solutions," she told the BBC's The Andrew Marr Show on Sunday (16 October).
"We agree with the position that there should be a vote in the House of Commons on the broad negotiating strategy. I don't believe there's a majority in the Commons for a hard Brexit and I believe the Commons should assert itself."
Sturgeon also criticised "prominent Leave campaigners", including foreign secretary Boris Johnson, for false promises touted in the run-up to the referendum.
"Much of what the Leave campaign put forward was very vague, they promised extra money for the health service, which is clearly not going to materialise, but I vividly remember hearing prominent Leave campaigners, Boris Johnson amongst them, saying leaving the EU does not mean leaving the single market," she said.
"In fact, many Leave campaigners talked about the common market being the only aspect of the EU worth anything at all."
Sturgeon delivered a rallying speech to the SNP conference on Saturday (15 October) in which she set out her plan to boost Scottish trade and exports.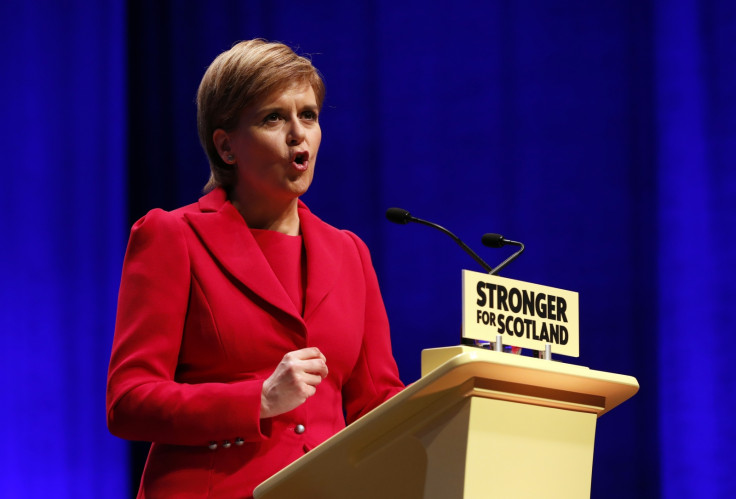 Among her suggestions would be the implementation of a permanent trade and innovation hub in Berlin and to double the number of Scottish Development International staff working across Europe.
Addressing the party members she said: "Let me be crystal clear about this – Scotland cannot trust the likes of Boris Johnson and Liam Fox to represent us.
"They are retreating to the fringes of Europe. We intend to stay at its very heart where Scotland belongs.
"We are in a completely new era. A new political era and a new battle of ideas.
"A new era for our parliament, with new powers and responsibilities, and a new era for our relationship with Europe and the wider world."
On Thursday (13 October), Sturgeon announced a bill that would begin the consultation on a second Scottish independence vote.
However, she promised she was not "rushing towards" another referendum and she would explore all options to maintain Scotland's access to the single market, according to the BBC.