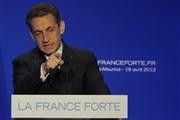 Basher Saleh, a close ally of ousted Libyan President Muhammaed Gaddaffi, lives in exile in France with the government's permission, according to French President Nicolas Sarkozy. Speaking to RMC Radio, Sarkozy said: "Saleh lives in France," AP reports
Sarkozy said the government decided to keep Gaddaffi's ally in its custody only after consulting the authorities concerned in Libya.
Basher Saleh is reportedly a target of US sanctions. Sarkozy insisted his government was "working hand in hand with the Libyan authorities" and said it would hand over Saleh to Interpol if asked for.
Sarkozy said the identity of the person must be clarified before he is handed over to Interpol, since the Interpol website has another person named Bashir al-Shrkawi on its wanted list whose photograph appears to be that of Basher Saleh.
It had been alleged that Sarkozy's election campaign in 2007 was financed by Gadaffi. Sarkozy rubbished the allegations saying it was a plot by the opposition during election time.
"There's a section of the press, of the media, and notably the site in question whose name I refuse to mention, that is prepared to fake documents, shame on those who have exploited them," AFP quoted Sarkozy as saying. Sarkozy said he would sue the website for publishing the material.
Meanwhile, far-right candidate Le Pen said she would support neither Sarkozy nor Francois Hollande in the run-off scheduled for Sunday.
In a mass rally in Paris, Pen asked supporters of the party to follow their, reported the BBC.
It was expected that Sarkozy would be able to beat the socialist Hollande during the run-off if far-right voters back him.