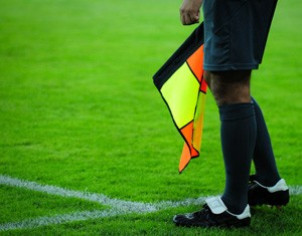 A Dutch assistant referee has been beaten to death after a football match in which his son was playing.
Richard Nieuwenhuizen was attacked by players from Amsterdam club Nieuw Sloten after a match against Buitenboys, to which he belonged.
A group of players from Nieuw Sloten, aged 15 or 16, kicked and punched the 41-year-old after the final whistle in the town of Almere, last weekend. The linesman collapsed at the scene and was rushed to hospital, but died on Monday.
Three boys were arrested by police in the aftermath of the incident, with the potential of more to follow.
The incident has united Dutch society in shock. The country is famous for being the home of a sophisticated approach to the game, known as 'Total Football.'
Ajax coach Frank de Boer, a former Dutch international player, labelled the attack "ridiculous."
"You can't imagine it happening; that boys of 15, 16 years short circuit like that. You wonder about the parenting. Something has to be done, because this is too ridiculous for words," he told reporters during a press conference ahead of Ajax's European clash with Real Madrid.
Nieuw Sloten said it was "deeply shocked" by the attack and vowed to ban for life the players responsible. The club has pulled out of the league and temporarily ceased all club activities.
A spokesman for Nieuwenhuizen's club Buitenboys said he ran the line every week.
"He enjoyed doing it. He was a real football man, he was always there," said club chairman Marcel Oost.