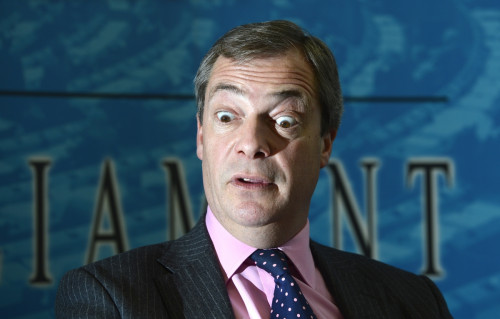 Nigel Farage, leader of the Eurosceptic United Kingdom Independence Party (Ukip), has said the government must do more to curb immigration from Eastern Europe and said recently announced benefit cuts don't go far enough.
Farage also said he will stand as an MP if the right by-election came up, either after the European elections in May or "certainly" in 2015.
Farage, who has led Ukip since 2010, said the three-month ban on claiming benefits should be extended to five years for new arrivals, but insisted he wasn't scapegoating Romanians or Bulgarians.
He also suggested only immigrants whose income was already on a par with the UK average should be allowed in because cheap labour was driving down wages for people in Britain.
"We should be selective," Farage told Sky TV's Murnaghan programme. "The single most important criterion should be that we want people coming to this country who have got a skill to bring, who economically are going to earn more than £27,500."
Labour's Ed Miliband, while conceding that some Britons might lose out to new arrivals, wrote in the Independent on Sunday that the real problem was companies exploiting low-paid labour:
"There is a loophole in the laws around agency work which allows firms to avoid paying agency workers at the same rates as directly employed staff. This loophole is being used in sectors where levels of employment from abroad are high, such as food production, and now accounts for as many as one in six of those employed by agencies. "
The issue of immigration has become one all the main parties are willing to discuss – if not put figures on. Speaking to the BBC's Andrew Marr, PM David Cameron refused to guess the number of arrivals expected from Romania and Bulgaria since restrictions were lifted on 1 January.
"We're not making a forecast because I think it's unlikely we'll get that forecast right. Because remember, it's not just Britain that's had to lift its controls. At the end of seven years of transitional controls, they are also being lifted in France and in Germany, in eight other European countries, so to try and make a forecast, I think, would be wrong."
All the main political parties seem reluctant to be drawn into a guessing game following Labour's underestimate of the number who would arrive from Poland in 2004. Migration Watch estimate some 50,000 Romanians and Bulgarians will arrive each year but the Eurostat data agency claims 96% of Romanians would prefer to go to other countries in the EU with large populations of their fellow countrymen.