Nigel Farage tells MEPs to invite Donald Trump to EU Parliament for a debate
Former Ukip leader made the speech just a day after Donald Tusk said Trump was a threat to Europe.
MEPs should be "more constructive" and invite Donald Trump to the EU Parliament to debate the US president, Nigel Farage declared on Wednesday (1 February). The former Ukip leader said it would be "anti-democratic" to reject the proposal.
"Perhaps what we need to do is to be a little bit more constructive. All of us here say we are democrats. Well, here's a chance to prove it: Let us invite President Trump to come here to this European Parliament," the Eurosceptic said.
"I'm sure as democrats you would all agree that we need to have an open dialogue with the newly-elected most powerful man in world. If you throw that rejection back in my face, then your prove yourselves to be the anti-democratic zealots that I always thought you were."
Farage made the speech as Labour MEP Seb Dance held a "he's lying to you" sign behind the Eurosceptic's back.
Farage was the first European political leader to meet with Trump after his shock White House victory in November and his comments come just a day after European Council chief Donald Tusk claimed the Republican was a threat to Europe.
"For the first time in our history, in an increasingly multi-polar external world, so many are becoming openly anti-European, or Eurosceptic at best," he said, in a letter to 27 EU leaders.
"Particularly the change in Washington puts the European Union in a difficult situation; with the new administration seeming to put into question the last 70 years of American foreign policy."
Trump described the Brexit vote as a "fantastic thing" during a joint press conference with UK Prime Minister Theresa May in Washington.
Professor Ted Malloch, the man tipped to be Trump's top diplomat to the EU, has also made controversial comments about the economic and political bloc. "I had in a previous career a diplomatic post where I helped to bring down the Soviet Union, so maybe there's another union that needs a little taming," the academic told the BBC.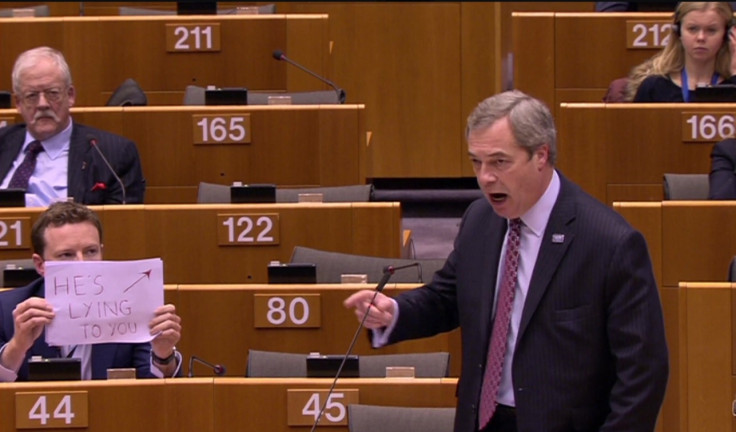 © Copyright IBTimes 2023. All rights reserved.