What started out as an initiative in a small Swedish town to make people jogging at night feel safer turned into a debate about the effect that immigration has had on the Scandinavian country.
Earlier in November, police in in the coastal town of Oskarshamn described how women can feel a "general insecurity" when they are out in the evening. They came up with a solution in which officers would jog in the evening to keep an eye on things.
"There is a perceived insecurity more than a real one. Not much happens here, but people are affected by what is happening elsewhere in the world and can feel unsafe when it's dark," police inspector Peter Karlsson had told broadcaster SVT.
But former UKIP leader Nigel Farage used it as evidence of fears against immigration in Sweden.
He told listeners of his LBC radio show how immigration meant that people in the town of 18,000 people were too afraid to leave the house at night.
He added that joggers going out after night will have the option of being accompanied by armed police officers.
"This is something that the local inspector thinks will make people a bit safer at night, going out in a Swedish city. Who would have believed I would have said that about a Swedish city just five years ago? It is truly incredible," Farage said.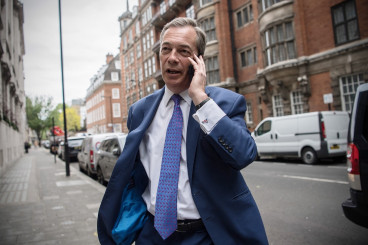 The story was also covered by far-right news website Breitbart, which focused on how officers would be armed, although carrying weapons is standard for any police officer in Sweden. The site also said that Sweden had been hit by a crime wave since the start of the refugee crisis.
But Swedish-based British journalist James Savage wrote on Twitter that he was "fed up" with people like Farage "spreading lies about this country to advance their racist agenda".
Anders Pleijel, inspector with the police in northern Kalmar County said it was unfortunate about how the story spread.
"You don't know whether to laugh or cry. Unfortunately, there are always people who interpret things to suit their own agenda," Pleijel told TT.
"This was a measure to help the whole community by increasing security. Nothing more," he added.
Farage once claimed that Sweden has become the "rape capital of Europe" after an influx of mostly Muslim immigrants, in a statement that was rejected by experts and sparked an Ofcom inquiry.